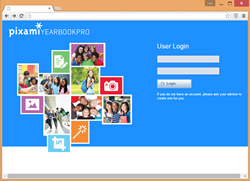 Pleasanton, CA (PRWEB) September 14, 2015
Today Pixami announced a major update to its Yearbook Pro yearbook design software for the 2015-16 school year. Now in its fifth year in the yearbook business, Pixami continues to push the envelope with the most advanced, easy-to-use, web-based yearbook software available.
The update contains a wealth of new design features including a set of sophisticated HTML5 editing and layout tools, an enhanced Portrait Wizard for auto-creation of panel pages, and five levels of Undo. Other features include more flexibility in arrangement of yearbook pages, online communication between designers, expanded capabilities for administering school sites, and a host of other major and minor usability and performance improvements. In addition, the new version contains hundreds of new backgrounds and layouts in a variety of design styles, additional fonts, clip art, and a new Elements category with over 2500 new page design elements.
Gary Wood, Pixami's VP Sales and Marketing, said, "We're very happy with the success we've had in a relatively short period, and we continually push to stay ahead in terms of both features and technology. This new version is no exception, and is the result of everything we've learned in the past year, and continue to learn."
He added, "It's also important to us that we address the different needs of elementary, middle, and high schools, while maintaining the ease-of-use that we're known for. This update accomplishes that, with a little bit of everything for everybody. I think all of our current and future customers will be pleased!"
Pixami Yearbook Pro, as a truly web-based solution, runs on all popular browsers on Mac and Windows, plus tablets and other mobile devices running the Apple iOS and Android OS, and Google Chromebook. In addition, this update is fully compatible with the new Windows 10 OS and Edge browser. Pixami feels this flexibility, along with the implementation of HTML5, is a critically important advantage, especially as browser companies move to disable third-party browser plug-ins like Flash and JAVA.
The new version will be available at the end of September, and all Pixami customers will be automatically updated. Based on its success, Pixami substantially lowered its pricing for the 2016 school year, and is actively signing up new customers.
About Pixami
Founded in 1999 and headquartered in the San Francisco Bay Area, Pixami is the leading provider of white-label online software for the creation of custom photo books, greeting cards, calendars, and other per-sonalized photo products, as well as for school yearbooks. Pixami developed the first ever online photo book software in 2000, and has a successful track record licensing software to online photo sites, brick-and-mortar retailers, book and yearbook publishers, commercial printers, and other businesses.
Pixami has two main software products: 'Photo Site' is a white-label, customizable product that allows its customers to sell personalized photo books, greeting cards, calendars, and all types of photo gifts to serve B2B and B2C opportunities. 'Yearbook Pro' is based on the Photo Site platform, with a wealth of year-book-specific features including management of school portraits via the PSPA standard, collaboration and teacher approval, and user development of custom yearbook pages.
Pixami has a worldwide customer base driving hundreds of live sites, including some of the largest sites in the US and Canada. The company's web site is located at http://www.pixami.com.