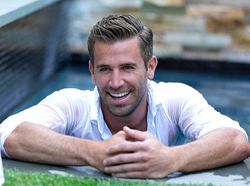 I'm hoping it will serve as a place of solution for those looking for long-term recovery
Laguna Beach, CA (PRWEB) September 15, 2015
MTV's "The Hills" Star Jason Wahler announced today the official launch of recovery residence, aka sober living home, Widespread Recovery. Wahler hit rock bottom in Laguna Beach in the midst of starring on cable television's number 1 hit show. Now, six years later he is returning to help those in need and combat the epidemic currently sweeping through Orange County.
"Laguna Beach is the place where my destruction began. Now, I'm hoping it will serve as a place of solution for those looking for long-term recovery," said reality star and Founder, Jason Wahler.
Jason Wahler rose to stardom as the bad-boy, on-and-off-again boyfriend to Lauren Conrad on MTV's "Laguna Beach" and "The Hills." Wahler's antics were closely watched by the media as he spiraled out of control with multiple arrests and a DUI charge. Wahler's disease rapidly progressed to the point where he tried to take his own life. After multiple failed attempts at sobriety, Jason Wahler eventually found the help he needed and has remained sober since 2010. Once Wahler had a few months of sobriety under his belt, he appeared on VH1's "Celebrity Rehab with Dr. Drew" as the peaceful mediator. Today, Jason life's mission is to raise awareness towards this deadly disease.
Wahler believes that it's not hard to get sober, but that it's hard to stay sober, that's why his focus is in aftercare. "After going through a quality treatment program, that can effectively assist in arresting the active disease and stabilize the patient, the emphasis shifts into helping the person reacclimate back into life while maintaining a solid program," says Wahler. "It is imperative to focus on integration rather than isolation."
Widespread Recovery provides residences and support for recovering individuals in a beautiful beachfront setting in downtown Laguna Beach. The properties in Laguna house ten beds and are simultaneously therapeutic and spiritual, as well as a fantastic place to discover a life worth living.
Widespread Recovery
Widespread Recovery is a top of the line sober living community located in the beautiful beachfront setting of downtown Laguna Beach. It was founded in 2015 by Reality Television Star and Treatment Recovery Advocate Jason Wahler. Widespread Recovery consists of three 10-bed, all male residences located only minutes from the ocean. This setting provides an esteeming environment of change supported by the recovery behaviors that have helped countless individuals maintain sobriety. Upon completion of the program, Widespread Recovery hopes that residents do not simply have more sober days, but that they have an improved quality of life and have increased their chances at maintaining long-term sobriety. Widespread Recovery is dedicated to providing an environment where blame and judgment simply do not exist, and all residents work together collaboratively to be better tomorrow than they are today.
Jason Wahler, Chairman
Jason Wahler is a Host, Actor and TV personality who appeared on Laguna Beach, The Hills, Celebrity Rap Superstar and eventually Celebrity Rehab with Dr. Drew, after battling a public struggle with addiction. Sober since July 2010, Jason has since dedicated his life to raising awareness on addiction and recovery to hopefully one day change the negative public perception on this deadly disease. Jason continues to use his personal experience and his presence in the public eye to inspire people who struggle with addiction and alcoholism to get help. Widespread Recovery has changed his life and allowed him to be a resource for thousands of individuals who need help but don't know where to start. On a regular basis, Jason works with various media outlets, in addition to celebrities, young adults, schools, law enforcement, churches, and athletes in order to promote addiction education and prevention. Through his work and dedication to his own recovery program, he hopes to be able to continue to change the way addiction is perceived throughout society, but more importantly, to remain a resource for anyone who struggles with the hopelessness that accompanies addiction, and to show people that life in recovery is truly incredible and absolutely worth living.