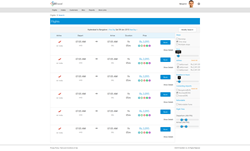 Los Altos, CA (PRWEB) September 14, 2015
The new version comes with an upgraded API for Expedia and integration of Hotelbeds booking service, CBD payment gateway, and Indigo airlines.
SutiSoft Inc., a trusted provider of easy to use business management solutions, announces updates to SutiTravel6.0, the latest version of its travel portal automation software. In our continuing efforts to provide our clients with the widest range of choices and convenience when making bookings, we have enhanced our solution by integrating additional payment gateways, booking services, and airlines.
Updated API's/Integration
Hotelbeds – A travel industry expert with a leading portfolio of over 50,000 hotels across 147 countries.
Commercial Bank of Dubai (CBD) payment gateway – A leading bank with billions in assets.
Indigo Airlines – An Indian low-cost airline with more than 35% market share in India.
Expedia API upgrade – Upgraded from SOAP to REST for increased performance and scalability.
For more details about the solution, please call us at 1.650.969-7884 or e-mail media(at)sutisoft(dot)com.
About SutiSoft:
SutiSoft provides a comprehensive suite of cloud-based business solutions for companies of all sizes. The suite includes scalable and easy-to-use solutions for HR, Payroll, Employee Travel & Expense, ERP, CRM, Document management, Business data analytics, and Electronic signature. This allows small, med-size, and enterprise customers to control costs and save time through use of integrated solutions. Headquartered in Los Altos, California, SutiSoft also has regional offices in Germany, India, and Japan. Additional information is available at http://www.sutisoft.com.