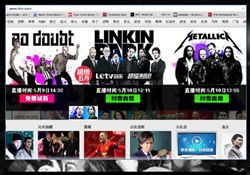 Los Angeles, CA (PRWEB) September 14, 2015
FansTang, through a strategic partnership with LeTV, one of China's largest online video portals, will live broadcast world's largest music festival Rock in Rio to the Chinese audience for a second time in 2015.
The festival returns to its native Brazil this month to celebrate its 30-year anniversary in Rio de Janeiro. FansTang will live broadcast 12 China relevant major concerts to China on LeTV and ancillary Chinese language onsite shoulder programming.
FansTang first launched its live events broadcasting business in 2014 and since successfully live streamed several major Hollywood events across film, television and music – the Billboard Music Awards, American Music Awards, Hollywood Film Awards, Golden Globes Awards, Rock in Rio and many more. In addition, each live broadcast is packaged with substantial Chinese language shoulder programming to further engage the audience.
FansTang kicked off 2015 with the first-ever live stream of The Golden Globes Awards and the show's search index on Baidu, China's dominant search engine, increased by nearly 80% compared to the previous year.
In May of this year, FansTang live streamed The Billboard Music Awards 2015 and, comparing to the 4 million Weibo mentions from 2014, the 2015 show generated over 76 million mentions.
Just a week later, FansTang live streamed 10 major concerts from its first Rock in Rio festival in Las Vegas through LeTV. This was the first time that Chinese audiences were able to watch Rock in Rio live online. The live stream and subsequent VOD brought in a total viewership of 14 million in China. FansTang provided significant marketing support to maximize the awareness and viewership by promoting the event to 120 million followers on FansTang curated social media accounts, as well as integrating headline performers such a Linkin Park into FansTang produced China's most watched Hollywood entertainment news program This Week in Hollywood.
About FansTang
FansTang, wholly owned by China Branding Group Limited, is the largest provider of localized international live events content, social media content, and non-studio Hollywood and related video content into the China marketplace. FansTang also maintains the most robust international content data platform that services a growing portfolio of major clients including studios, Hollywood agencies, international ad agencies, and brands.
For additional information, please visit http://www.fanstang.com
About Rock in Rio
Rock in Rio has been attended by more than 7.4 million and has showcased more than 1,270 artists in the 14 editions of the festival. Due to Rock in Rio's efforts, more than 148,000 jobs have been created and more than 1 billion people have watched the concerts worldwide. In 2015, Rock in Rio will celebrate its 30th anniversary and the debut of Rock in Rio USA in Las Vegas.
About LeTV
LeTV, also known as LeShi Internet Information and Technology Corp., is a China based entertainment company and the largest Internet video provider in China. It is mainly involved in the provision of network video basic services and video platform value-added services, and offers online videos through Web browser, personal computer (PC) client-side, mobile client-side and television remote access. LeTV.com is also the first online video provider in China to complete a domestic IPO.