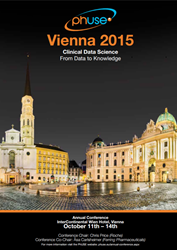 Clinical Data Science - From Data to Knowledge
London (PRWEB) September 14, 2015
With less than a month to go, the PhUSE Annual Conference in Vienna is sold out. After annual events in Brussels (2013) and London (2014), it is the third time in a row that the conference for statistical programmers, data managers and biostatisticians has sold out. More than 480 people from across the pharmaceutical industry will join this event to share, contribute and advance at Europe's premier biometrics conference.
In line with the PhUSE strategy to be the voice towards standard organisations and regulatory agencies, this year the Conference will have representatives from the three major regulatory agencies – the European EMA, the US FDA and the Japanese PMDA. As part of the Regulatory stream, the Conference attendees will have the opportunity to engage in discussions with the regulatory representatives during organised panel discussions. Standardisation, data transparency and electronic submission of clinical data are still hot topics across the entire industry and require close collaboration and communication with regulatory agencies.
As with previous years, a panel of high-calibre speakers will give keynote speeches to start each day. Alex Flynn (Parkinson's sufferer), John Sall (Co-Founder and Executive Vice President of SAS) and Simon Weston OBE (Falklands War veteran) will ensure that Conference attendees get a different perspective on topics related to clinical data science. The popular CSS Discussion Club and interactive Hands-on Workshops cover diverse areas from the use of data standards from collection to analysis and submission, to applying advanced analytics on real-world data, and to pharmacokinetics and associated data analyses. More than 140 posters and presentations form the interesting agenda for this Conference.
About PhUSE
PhUSE, Share – Contribute – Advance, provides the industry with the premier platform for creating and sharing ideas, tools and standards around data, statistical and reporting technologies. PhUSE is a non-profit, volunteer-supported community of professionals who are passionate about the advancement of clinical data science. Since its inception, PhUSE has expanded from its roots as a conference for European statistical programmers to a global platform for the discussion of topics encompassing the work of data managers, biostatisticians, statistical programmers, clinical data scientists and other functions in the biometric area of pharmaceutical development.