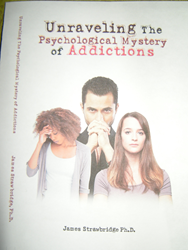 Boynton Beach, FL. (PRWEB) September 19, 2015
How can you know if your drinking habits or a hit or two can turn you into a serious addict? While there are many ways to predict future abuse problems, a simple QA test, offered in a new book, "Unraveling The Psychological Mystery Of Addictions", by Dr. James M. Strawbridge, is a good beginning. As Dr. Strawbridge, an addictions specialist points out, "Many factors determine whether a person will someday have a serious addiction problem." The book points out that there are two phases to becoming an abuser of alcohol or drugs as it progresses from abuse to dependence. A five question screening test determines if you are an abuser. The second QA. of eight questions asks why a person takes a drink in the first place. Another question asks if taking drugs or alcohol replaces other once pleasurable activities. If the answer if yes to three or more questions, during the past 12 months, that indicates dependence. As Strawbridge observes, there is a fine line between abuse and dependency. Alcoholics build up a tolerance that leads them to drink more and more to achieve the desired "high", as do drug addicts.
The book contains gutsy interviews with alcoholics and drug addicts now in recovery and what actions in their lives triggered their addictions. These are men and women of all races and backgrounds telling their stories in their own words. Easy-to-understand language this book a helpful guide on a misunderstood subject.