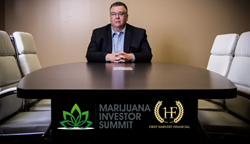 It is such an exciting time in venture capital for the legal medical marijuana space and the opportunity businesses and entrepreneurs have is unheard of
Tampa, FL (PRWEB) September 14, 2015
On September 16, 2015 Los Angeles will be presenting a Marijuana Investor Summit offering attendees a deep dive into investing in the cannabis market.
Top industry leaders in the medical marijuana investment space are set to speak for this highly anticipated summit conference. Kevin Gillespie, CEO of First Harvest Financial, is one of the highlighted guest speakers.
Mr. Gillespie is a third generation investment entrepreneur with 24 years of expertise in the financial services industry specializing in venture capital. Having served the lead in several early round, pre-public investments in companies like Facebook, Groupon, Zynga and Twitter, Kevin also has tenured experience serving as an advisor to numerous Private Equity Investment firms.
Kevin is the Founding Partner and CEO of Lexington Tech Ventures Management, LLC. Lexington invests in private, late-stage, venture backed (Pre-IPO) companies with a specific focus on emerging growth sectors.
"It is such an exciting time in venture capital for the legal medical marijuana space and the opportunity businesses and entrepreneurs have is unheard of," said Gillespie.
Additionally, Kevin is the Founding Partner and CEO of First Harvest Financial, LLC, and the Managing Member of the First Harvest Opportunity Fund, LLC. The First Harvest Family provides strategic consulting as well as investment banking services for visionary entrepreneurs and angel investors within the burgeoning Medical Cannabis Industry.
Cannapitch Pitch Sessions features Kevin Gillespie, as well as industry leaders including: Robert Hunt, Frank Marino, Matthew Mills, Dooma Wendschuh, and Sam Znaimer. The pitch session offers an opportunity to hear from a panel of industry business leaders, Kevin Gillespie being one of them. This is an event you do not want to miss! The session, CannaPitch, will feature 2-3 companies competing before a panel of highly qualified investors. The event moderator is Dooma Wendschuh, CEO of Ebbu, a company that raised over $5 Million in the medical marijuana space. The panel will host a Q & A and be polled to indicate their desire to move forward with discussions to invest.
Additionally, this one-day summit covers a wide array of investment topics and industry insights. The Marijuana Investor Summit is located at the Los Angeles Convention Center and each of the conference sessions are taught by successful experts in investment and venture capital industry of legal medical marijuana.
Whether a business investor or entrepreneur in cannabis, attendees for the summit should expect to learn the following: learn about the business of legal cannabis; how to invest; rewards of investing as an early adopter, how to build your business, and find the right investors.
This networking opportunity and attendance is ideal for those who have a business, are planning a new venture, seeking to invest, or seeking market knowledge. Amongst top industry and business leaders, investors, entrepreneurs, service providers will be in attendance.
Session topics at the summit include: Finding and attracting capital; mergers and acquisitions; public capital market performance; which fund is right for you; investing and working with Native American tribes; debt financing in cannabis; cannabis market sector opportunities; the value of strategic investors and partners; risks and opportunities in public markets; cannapitch pitch sessions.
Interested to attend? To register go to http://www.marijuanainvestorsummit.com/la-summit-2015/ or Onsite Registration is located in the Registration Lobby of West Hall B at the Los Angeles Convention Center. Registration opens earlier than the Conference Program starting at 9 a.m. and earlier than the Exhibit Hall.
For media inquiries or to schedule an interview, call 1-813-775-7107 or email Info(at)Ibossadv(dot)com.
About First Harvest Financial
First Harvest Financial, Inc. works directly with those professionals looking to strategically enter and capitalize on growing and creating therapeutic, cannabis-based solutions in today's marketplace. The firm provides a platform for legal cannabis startups to interact with corporate executives, serial entrepreneurs, and technology accelerators. For more information, please visit: http://www.firstharvestfinancial.com/