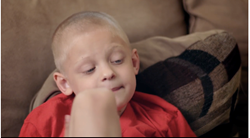 New York, NY (PRWEB) September 13, 2015
Hero Content teamed with marketing agency Bendigo Co. to concept and execute three powerful ninety-second short films. Directed and photographed by Stephen Frandsen and edited by Gabriel Urioste, the films wonderfully illustrate HackensackUMC, Eli Manning and The New York Giants unflinching commitment to defeating childhood cancer.
The "Tackle Kids Cancer" initiative films feature a day in the life of quarterback Eli Manning, training and preparing for the upcoming season while also making time to help those in need. The film crew documented Eli through his workout at the Giants' training complex, and journeys of the families on route to HackensackUMC for treatment, and culminated in a meeting between Eli, the children and their families at the Children's Cancer Institute.
The films capture the emotion and fear of confronting a life-threatening illness as a child and the determination and resolve of the team that are bringing them back to full health. We were honored to have been included in the process and first and foremost are wishing Kaia, Matthew, and all the young people we were fortunate to have met a speedy recovery.
The 90 second film featuring Eli & Kaia's journey debuted on WNBC's Sunday Night Football In America prior to the Giants Cowboys game on 9/13. The shorts are scheduled to run during the game broadcast.
Please visit http://www.tacklekidscancer.org/