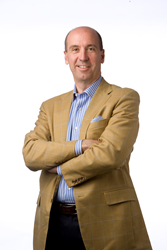 We must always be aware that different or better ways of doing things can and probably do exist.
Chicago, IL (PRWEB) September 18, 2015
Futurist Jack Uldrich delivered a keynote address, "The Big AHA' for the True Value Fall Market yesterday, September 17th, at McCormick Place in Chicago, IL. The theme for the conference was "The Power of Wow." Uldrich, a world renowned trend expert discussed the top 10 transformational trends that will affect the hardware industry in the next decade.
Uldrich provided an in-depth exploration of how the "Internet of Things," 'Big Data," social media, robotics, biotechnology, nanotechnology, artificial intelligence, renewable energy and "collaborative consumption" will change everyday life for all of his clients in the very near future.
In addition to covering top tech trends and leadership skills Uldrich also specializes in workshops on change management. He speaks over 100 times a year to a wide variety of businesses and organizations, focusing on the transformation of health care, agriculture, education, energy, finance, retail and manufacturing. Recent clients include ABB/Thomas & Betts, FedEx, Cargill, Blue Cross Blue Shield and Wells Fargo.
Uldrich says, The Big "AHA" is an acronym I use to help clients think more constructively about the future. It stands for Awareness, Humility and Action. We must always be aware that there could exist a new, different or better way of doing things. I am convinced the future is full of extraordinary opportunities but frequently we are so focused on our day-to-day activities that we fail to become aware of these opportunities."
The power of Uldrich's wow was in his delivery and keenly insightful message. Tomorrow he will speak at Future Vision in Sonoma, CA. Later in the month he will address Coulee Bank in LaCrosse, WI and St. Paul, MN., as well as private financial firm on Kiawah Island, SC.
For more information on Jack Uldrich's speaking, books or further details on other upcoming events see his website .