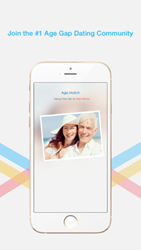 Age Match -#1 Older Men Younger Women Dating App | Age Gap Dating Social Network
Los Angeles, California (PRWEB) September 15, 2015
More than 10 years ago, AgeMatch saw a clear need in the older singles dating market and launched its website, offering an array of specialized services to older men and women looking for love, romance and friendship. In retrospect, this can be considered visionary, given that this was long before the notion of older men or women dating younger partners became more acceptable to general society.
Now, bringing things right up to date, with the launch of this new dating App, older singles of both genders can look for potential partners whilst on the move and no longer need to wait until they are back home or in the office to try to find the potential love of their life!
The App is easy to download from iTunes and is available in two languages, English and German, for starters. It is suitable for the full range of iPhones from the 3GS to the 6s plus, as well as for iPads, and needs IOS 7.0 or later to facilitate installation.
AgeMatch always endeavours to keep itself ahead of the competition to maintain its leading position in the industry, one of the site's unique selling points being that it helps match singles of both similar and different ages and is not solely focused on mature members like many other sites in its category.
Naturally, the new App has global reach and offers user access to thousands of registered clients. Given that there are typically upwards of 200 members on the site at any one time, this provides an excellent opportunity for users to meet someone special.
This App nicely compliments the AgeMatch mobile application which has a variety of relatively simple-to-use "search tools", such as quick search (location, age range, relationship sought, male or female partner etc); locational search (town, city); reverse match (instead of specifying criteria for their own search, members look for somebody who matches their profile); and an advanced search (covering items such as physical attributes, hobbies and interests and other personal details). In addition, there are also a username search and tab searches (these can be for members online or, for example, those with an impending birthday or other milestone).
The App allows members access to other users profiles whilst on the go, with reference to personal details, interests and physical characteristics—plus, of course, perhaps one of the most important features—the ability to upload photos; in fact, more than 25 photos per person are allowed.
AgeMatch is pleased to offer this new dating App which is a great tool for any younger person looking for senior dating—and vice versa. An indispensable resource for modern people looking to keep up to date with dating in the modern world!