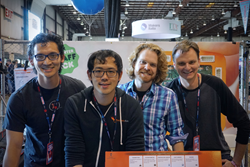 "Qfusion Labs was created to level the playing field for all makers," said Jason Gouw, CEO and co-founder, Qfusion Labs.
San Francisco (PRWEB) September 15, 2015
Qfusion Labs, LLC will exhibit Cubit, a DIY electronics platform, later this month at MakerCon New York and the 6th Annual World Maker Faire at the New York Hall of Science. Today Qfusion Labs announced the launch of its new website, which provides both an online store and educational resources, including Do-It-Yourself project videos. This resource will support the Maker community, as well as STEM (Science, Engineering, Technology, and Mathematics) students returning to school and universities this Fall.
STEM Education
According to a recent report from Matthew Lynch of Education Week, there are multiple barriers to STEM education for many U.S. students today. Cubit simplifies electronics projects, in order to make innovative education more accessible. The platform combines intuitive plug-and-play electronic components and a visual programming tool, which removes many challenges that parents and teachers face when helping students. The Cubit platform is part of Qfusion Labs' mission to support Makers of all ages, and accelerate the next generation of inventors.
Maker Community
Cubit is more than just an educational technology product. It has the agility and scalability to provide Makers with a platform for accelerating the invention process. The platform will be featured at MakerCon, an event for the Maker community that supports startups developing prototypes and market-ready high-tech products.
Qfusion Labs will also be a featured technology startup at the 6th Annual World Maker Faire in New York. At the faire, the co-founders will demonstrate how Cubit levels the playing field for crafters, educators, tinkerers, hobbyists, artists, and students who might not have a background in science or engineering.
What: 6th Annual World Maker Faire New York 2015
When: Saturday September 26 & Sunday September 27, 2015; 10am – 6pm
Where: New York Hall of Science, Queens NY
Product Availability
Following a successful Kickstarter campaign, QFusion Labs is now accepting pre-orders to be shipped in 2016. The new online store allows Makers of all ages and backgrounds to pre-order bundled kits, or customize the Cubit platform to their needs by mixing and matching the following components. A downloadable copy of Cubit Workshop, the platform's intuitive visual programming tool, is provided for all Qfusion Labs customers.
Cubit Microcontroller
Cubit Smartwares, including but not limited to:

Motors
Sensors
LEDs
LCD Screens
Buttons
any Qfusion Labs or third-party components, i.e. power sources.
Visit the online store at qfusionlabs.com. To inquire about group and educational discounts, please email sales(at)qfusionlabs(dot)com.
###
About Qfusion Labs
Founded in 2014 by Jason Gouw, Marvin Gouw, Sean Thurston, and Tim Mowrer, Qfusion Labs developed its flagship product, Cubit. With the support of the Kickstarter community, the vision of Qfusion Labs is to support all makers, regardless of age, education, or background. Qfusion Labs's mission is to create technology that simplifies electronics and software in order to empower inventors who want to manage the entire invention life-cycle within their local communities.
About Cubit
Cubit, a DIY electronics platform, combines three fundamental elements: The Cubit Microntroller, plug-and-play electronic components called Cubit Smartware, and an intuitive visual programming app called Cubit Workshop. It supports Makers of all ages and backgrounds because it has almost no barriers to innovation, such as requiring inventors to learn how to code or solder. Cubit provides the flexibility and scalability to support any Maker as they develop their skills, increase their knowledge, and pursue their ideas.