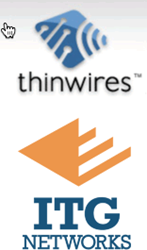 We are thrilled to welcome Thinwires customers and have Bill Beldham onboard to lead engineering.
Wexford, PA (PRWEB) September 28, 2015
ITG Networks announced today that it has concluded its acquisition of the Guest Internet Access (HSIA) contracts from Thinwires, another PA-based firm.
The acquisition represents a continuation of ITG's strategic growth initiative in guest Internet and Hotel technologies. ITG stated that Thinwires' customer networks have been fully integrated in ITG's managed solution with zero disruptions. ITG credits its exceptional project management expertise in managing the transition.
Said John Spirnak, ITG's President, "This is a mutually beneficial transaction for both companies because it fits well into our three-pronged strategy to grow through in-house sales efforts, customer referrals, and acquisition." Thinwires, originally founded in 2003, has had a primary focus on the integration of WiFi and network related services into the hospitality sector--hotels and resorts, as well as multi-dwelling units. With their focus on a fully integrated solution involving all aspects of implementation and network monitoring, their contracts dovetail tightly with the goals and offerings of ITG networks. Spirnak continued, "I'm thrilled to welcome Thinwires customers and have Bill Beldham onboard to lead engineering. We have already fully integrated the contracts of Thinwires, and with ITG's strong project management and premium Guest Internet Access (GIA) support solution, our new clients have been exceptionally happy."
ITG has experienced continued growth with its implementation of visitor-based network and phone systems for the hospitality industry. Most recently, ITG deployed and and now supports a managed WiFi solution representing over 150 Red Roof Inn and Red Roof Inn Plus properties in the United States.
About ITG Networks - Headquartered in Wexford, Pennsylvania, ITG Networks supports hospitality clients throughout the continental United States, including Alaska. ITG manages more than three million internet connections each year.
ITG provides 24/7 support with scalable voice and data network solutions that leverage current infrastructure – including traditional data cable wires and existing telephone lines – while adding intelligent wireless technologies.
ITG intelligent wireless technologies provide WiFi with ROI, an application rich ecosystem based on robust, intelligent WiFi, coupled with a variety of applications enhancing the experience of the end user, ranging from smartphone apps to wireless statistics for business analytics, location based services, network user identity and single sign-on. ITG has experience helping customers with rapid development and deployment of WiFi networks with options including cellular offload and merged voice and location based technologies.
You can visit http://www.itgnetworks.com for more information on High Speed Internet Access for Hotels