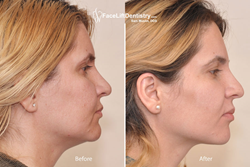 Face Lift Dentistry® without surgery helps patients look their best from every angle and with every expression rather then just getting a better smile with the same face.
Santa Monica, CA (PRWEB) September 14, 2015
The American Dental Association has announced its joint effort with the American Medical Association (AMA) to fight America's opioid crisis. Santa Monica cosmetic dentist Dr. Sam Muslin, DDS, is glad his colleagues are getting on board with the philosophy that has guided his Santa Monica dental practice for years.
"There is a chronic pain epidemic in this country. As medical professionals, it's our responsibility to get to the root of our patients' problems – not just mask them," says Dr. Muslin, developer of the non-invasive Face Lift Dentistry® method which provides pain-free overbite, under bite and facial profile correction combined with health optimization without surgery. "Let's fix what's wrong. Let's educate our patients. Let's change what's happening in our country."
Face Lift Dentistry® provides gentle relief for headaches and temporomandibular joint (TMJ) pain, skirting the need for prescription pain medicine. It provides a remedy for the aging face, small chin sizes due to overbites, large chin sizes due to under bites, chewing problems, speech clarity from bad bites, compromised sleep quality, and head and neck pain, caused by misaligned jaws and bites and worn down teeth. Using complex motion tomography to help him locate the best jaw position for the patient which reverses lost facial support and the effects of aging.
Dr. Muslin's exclusive VENLAY® restorations can correct bite mechanics, protect enamel, and optimize the best facial profile for each patient without ever resorting to a scalpel and most importantly, without grinding down your healthy teeth. His Face Lift Dentistry® method does not require pain medication because the healthy tooth structure is preserved.
"Pain medicine is not the devil," says Dr. Muslin. "Neither is surgery. But, they're overly prescribed when there are less extreme alternatives – like non-invasive Face Lift Dentistry® that can transform the life of the patient. Why throw powerful opioids at people, when it's within our power to find the source of our patients' chronic pain and fix it?"
Dr. Muslin is the pioneer of the non-surgical bite and profile restoration known as Anti-aging Face Lift Dentistry®, a trademarked dental restoration method. He does not grind down the natural teeth, as is the practice of some general and cosmetic dentists. He treats all tooth decay, infection and gum disease before building up the bite and establishing the ultimate jaw position for each of his patients with his patent-pending VENLAY® restorations.
Dr. Muslin is currently the only provider of the Face Lift Dentistry® method; however, he is planning to launch The Face Lift Dentistry® Academy. Qualified and experienced dentists may register for this continuing education opportunity by filling out the online Face Lift Dentistry® training contact form.
More than 100 million Americans suffer from acute and chronic pain. One in 10 of those people are fighting TMJ and muscle disorder, according to The National Institute of Dental and Craniofacial Research. Pain medicine is widely prescribed with opioid addiction reaching crisis levels. An average of 44 people die each day from opioid overdose, states the AMA, which recently formed a Task Force to Reduce Opioid Abuse and is making national recommendations to address the growing epidemic.
"As healthcare professionals, we're on the front lines of this issue and see how it causes devastating destruction for every life that it touches," said Dr. Maxine Feinberg, ADA president, in a press release. "Together, we can harness the collective power of preventive education and intervention to help reverse this epidemic."
The AMA Task Force to Reduce Opioid Abuse comprises 27 physician organizations, the American Dental Association, 17 specialty and seven state medical societies, the American Osteopathic Association, as well as the AMA.
"Pain related to jaw and dental problems interfere with eating, talking, sleeping, work and social life," says Dr. Muslin. "By treating the source of the biopsychosocial characteristics of pain and tension rather than just the symptoms, we can improve physical and psychological health. Once the jaw position is corrected, pain is significantly reduced, chewing improves so digestion improves and the face shape and jawline is better. Signs of premature aging disappear, and work productivity goes up, self-esteem is up. Patients feel better, look better, and their lives are forever changed."
To read more about Dr. Sam Muslin's progressive high tech dentistry methods and to see his most recent case study photos, visit the Face Lift Dentistry® website at http://www.faceliftdentistry.com. For consultation, call (310) 829-6796.