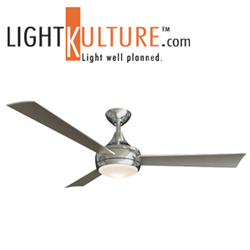 Save 15% and thousands of kilowatts in -style, with the attention to detail in all Matthews and Atlas Fans. Happy NCFD.
Houston, TX (PRWEB) September 15, 2015
LightKulture.com is excited to participate in the Third Annual National Ceiling Fan Day to raise awareness of energy conservation by staying cool without using central air conditioning. "On Thursday September 18th we all have the ability to save trillions of kilowatt hours by relying on cooling our homes with ceiling fans, portable fans, and wall fans, without the use of central cooling systems", noted Susan Inderbinen President of LightKuture.com. As an extra incentive, LightKulture.com is offering 15% on all Matthews Fans, including all Atlas Fans. The US Environmental Protection Agency recommends using ceiling fans to reduce or eliminate the need to use air conditioning. Ceiling fans consume far less energy, as few as 15 watts of electricity, while air conditioning can use as much as 5,000 watts when used for the same amount of time. Operating a fan costs as little as $1 per month, versus $100 per month to run the AC for a typical American home. Fans labeled with the Energy Star rating are 60% more efficient than conventional ceiling fans. All of the ceiling fan brands carried on LightKulture.com, Matthews Fans, Atlas Fans, Kichler and Modern Fan Company are proud sponsors of this event.
The purpose of NCFD is to raise national awareness of escalating energy costs and consumption. Many of the nation's leaders in energy conservation are also supporting this initiative. This includes The EPA's Energy Star Program, Affordable Comfort Inc, Alliance to Save Energy and the Environmental and Energy Study Institute. The day is devoted to saving energy and raising awareness about how ceiling fans, table, floor and wall fans can fit into an overall energy saving plan. The cost of air conditioning can be up to 70% of a typical summer utility bill. The United States could save enough energy to power the entire city of New York for months if every American participated in NCFD by turning off their AC and just relied on fans for their cooling needs. Studies from the EPA recommend using ceiling fans to reduce the need for air conditioning in the 94 million homes that use air conditioning.
For more information go to
Matthew Fans - http://www.lightkulture.com/brands/Matthews-Fan-Company.html
Atlas Fans - http://www.lightkulture.com/brands/Atlas-Fan-Company.html
National Ceiling Fan Day, Save 15% on Matthews Fans and Atlas Fans, Now at LightKulture.com.
"Living in Florida, ceiling fans are a necessity in just about every room you can think of inside and outside of your house, condo or apartment. I know first hand the benefits of energy savings from using ceiling fans, wall fans, table and floor fans throughout our home, our patio, our offices and our showroom. With technological advancements in materials and manufacturing, efficient motors, increased aerodynamic design and LED lighting, ceiling fans have evolved from nostalgia or decoration, into energy savings cooling devices, in the defense against increasing energy prices. Fans also help recirculate heat in the winter, or provide atmosphere and light to define an intimate space. We are proud of all the brands we represent, and are pleased to offer a 15% savings on all Matthews Fans and Atlas Fans in honor of National Ceiling Fan Day on September, 18th, the entire week of September 14th. I hope you will join me in reducing energy consumptions every day, but in particularly September 18. Save 15% and thousands of kilowatts in -style, with the attention to detail in all Matthews and Atlas Fans. Happy NCFD", noted Susan.
About LightKulture.com
At LightKulture.com, our mission is to offer the finest energy efficient contemporary lighting and light fixtures from around the world. We have assembled an exciting collection of the industry's most innovative decorative and architectural lighting.We are proud to offer lighting solutions for both your home and work-life environments. Simplicity is design is complicated, function makes it last. Be inspired by our range of essential designs from well respected American and European manufacturers. In today's world, energy efficient lighting is as important as eco-friendly or green lighting fixtures, such as LED or CFL lighting. We offer the very best energy efficient lighting and light fixtures, both high value LED lighting fixtures and CFL lighting fixtures in modern and contemporary styles that provide quality, innovation and authenticity.
LightKulture
http://www.lightkulture.com/
Email. sales(at)lightkulture(dot)com
Tel. 941-330-0422