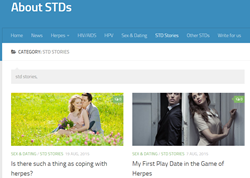 Los Angeles California (PRWEB) September 15, 2015
AboutSTD.com is a popular site that provides people living with various sexually transmitted diseases such as Herpes. HIV/AIDS, and HPV answers pertaining to different aspects of their lives, including information on coping with the disease and sex and dating advice. The site is currently looking for people living with STDs to write for them. The site claims that this is move has its genesis in the realization that every individual living with an STD has a unique story to share.
These tales of personal struggles, coping with a life-altering medical condition and emerging out it all stronger than before can serve as a true source of motivation to others living with the same or similar conditions. The focus of these STD stories is on personal experiences – how did a person get an STD, how did they come to terms with this reality, how has the diseases impacted their lives, steps taken to manage the condition effectively and the influence of their disease on their dating and sex life. Anyone who can shed their inhibitions and be candid about their experience is welcome to write for AboutSTD.com. One does not have to be a professional writer to start contributing for them.
Understanding fully well that not everyone living with STDs likes to come out in the open about it, especially on a public platform, the site allows users to write anonymously. In case someone prefers to put themselves out there and reach out to others living with STDs, AboutSTD.com has a provision for creating a detailed profile too. Other than people affected by STDs, dating coaches, relationship advisers, health journalists and professional doctors are also welcome to contribute to the site.
AboutSTD.com has emerged as a vast community of people living with sexually transmitted diseases. It allows people from different cultures, regions and ethnicities to find support in one another by sharing experiences, tips, advice and emotions with one another. Anyone with a story to share or vital inputs on improving the quality of life for people affected by STDs can contact AboutSTD.com to start writing for them.
About AboutSTD.com
AboutSTD.com is popular destination for STD positive people to seek information and advice on different aspects of life such as latest news in the field of STD, insightful advice on how to manage the condition better and of course, dating tips.