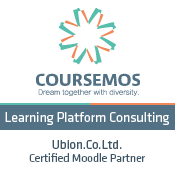 It is a great honor and pleasure to be the first certified Moodle Partner in Korea.
Perth, Western Australia (PRWEB) September 15, 2015
Moodle, the world's open source learning platform, today announces Ubion as a newly certified Moodle Partner based in South Korea. Using its coursemos.kr site as the primary gateway to its services, Ubion helps universities, schools and workplaces create highly effective learning environments in Korea, and participates in global educational ICT projects with the South Korean government. As a Moodle Partner, the organisation will use the Moodle trademark and provide certified Moodle services to its customers, while helping to financially support core Moodle development and services such as MoodleCloud.
Martin Dougiamas, CEO and Founder of Moodle states "I am so happy to announce this partnership which we're formalising today after talking together about it for quite a long time! We're very much looking forward to working more closely with Ubion in South Korea and learning more from them about how we can help Moodle users there with local educational needs."
On joining the Moodle Partner network, J.H. Lim, CEO at Ubion remarked "It is a great honor and pleasure to be the first certified Moodle Partner in Korea. I am glad and inspired to have the opportunity to collaborate globally with partners who share the same educational philosophy and vision. Our intention is to contribute greatly to Moodle initiatives, and our mission is to be at the forefront of e-learning, as we have been in Korea for past 16 years."
The Moodle Partner network has grown to more than 70 certified Moodle Partner organisations based in 45 countries worldwide.
# # #
About Moodle
Moodle is an open source learning platform with many more than the 70 million registered users worldwide and translated in over 100 languages. Moodle aims to provide educators, individuals, schools, universities and workplaces with the tools to build their own highly customised site for online and blended learning. In the 13 years since its first version was released, Moodle has been adopted by countless renowned organisations in every country, and is supported by a global network of Moodle Partners providing certified services.
About Ubion
Ubion is the main "e-learning lifelong learning company" in Korea, and is a worldwide leader in delivering e-learning services. Supporting an environment of multiple educational services, Ubion, primarily through its coursemos.kr offering, is able to deliver anytime and anywhere. Through its network it is able to provide learning tools, digital devices and advanced technology solutions. With an ecosystem based on the mastery of learning philosophies, it brings together innovative platforms, active learning, and creative people.
ENDS
Contact
Collette McCann
Marketing and Outreach Officer
collette(at)moodle(dot)com
Sources
moodle.com
http://www.coursemos.kr/en
http://www.ubion.co.kr/