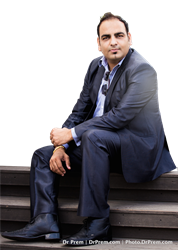 With an eye on the growing opportunities, the network is inviting strategic partnership and investment relationships for its highly ranked niche websites. If you have an idea or intention to grow together, just connect with us.
Mumbai, India (PRWEB) September 15, 2015
Evolving over the last decade, Dr Prem's Web Network has numerous high quality niche websites that collectively carry over two hundred thousand articles that are information driven, well researched and easily comprehensible. A majority of these websites are perched at the top of organic search rankings. This rapidly growing network has ensured a steady revenue stream through platforms that include advertisements, promotion, AdSense, sponsor programs and Dr Prem's signature brand of management services.
The web network is inviting strategic partnership and investment relationships for its highly ranked niche websites. Through new ventures, this venerated web network aims to bring a greater diversity of high quality content for its readers, and a rewarding experience for its investors and partners.
A symbiotic strategic partnership with this well-regarded network with a loyal reader base offers a suite of benefits for partners. Some advantages that can be gained right off the bat are:

Entering into a strategic partnership with Dr Prem's Web Network will enable the partners to access a broader range of resources and expertise, which can prove decisive in outdoing competition.
Mobile-readiness is the buzzword of the year. Individual companies can partner with this vast network to focus on the mobile potential of each niche website. A UI/UX benefit for the reader, and greater benefits for investors can flow from custom web and mobile applications.
The partnership/investment will be instrumental in ushering in new clients and ensuring consistent ROI, irrespective of the size of the business and area of its operations.
Bringing to the fore its experience and expertise in publishing, web applications, content management, SEO marketing along with its technological prowess, the network can design and deliver solutions that will work.
Dr Prem's Web Network has revealed remarkable expertise and consistency in creating brand reputation. The network endeavours to do the same for new partners by providing them a spotlight with the target audience.
Dr Prem's Web Network's premium offering:

hometone.com offers comprehensive and thought provoking home improvement tips along with home décor ideas, furniture buying tips and latest offerings in the home décor marketplace.
weddingclan.com is a complete wedding guide offering insights into wedding dresses, bridal makeup, bridal dresses, bridal shoes, bridal fashion tips, choosing the perfect wedding venue and much more.
ecofriend.org goes at length covering the latest news about environment, global warming, sustainable solutions, renewable energy and green design.
diyhealth.com promotes healthy living through home remedies, children's health tips, healthy living tips, mental health conditions and treatments and skin conditions.
greendiary.com is all about green technology, solar energy, wind energy, renewable energy, green design and environmentally-friendly tips for a sustainable future.
---
About Dr Prem's - A Global Influencer
Dr Prem is an acclaimed global speaker, successful entrepreneur, publisher and global influencer. Aside from publishing a bevy of life-improvement guides, Dr Prem runs a network of 50 niche websites that attracts millions of readers across the globe. Thus far, Dr Prem has traveled to more than 40 countries, addressed numerous international conferences and offered his expert services to more than 150 international organizations. He also owns, operates and leads a web services and technology business, supervised and managed by his eminent team.
Dr Prem is open to innovative ideas, startups, sponsorship posts, network partnerships and investment opportunities. This multifaceted man will take time from his busy schedule to personally strategize and oversee the implementation. Dr Prem's tremendous record of accomplishments, Dr Prem's own charism as a global social media influencer, award winning thought leader, renowned expert in personal branding and brand management approach with enviable experience will certainly go a long way in making any venture seamless, rewarding and successful. More about Dr Prem Jagyasi
About Dr Prem's Guide

Dr Prem's Live a Great Life Guide aims to help readers lead a great life, which is free of inhibitions, negative thoughts, diffidence, failures, and neglect. The author wants his readers to chase their dreams and take positive actions in the same direction.
Dr Prem's Travel Guide caters to information requirements of travel enthusiasts regarding destination selection, travel mode selection and other details related to travel.
Dr Prem Marketing Guide carries incisive information on concepts of affiliate marketing, online marketing tips, marketing strategies, advertisement tips, branding ideas and social media.
Dr Prem's Style guide is a style-focused website covering the latest in fashion trends, stylish wear, beauty tips, makeup tips, celebrity fashion trends along with seasonal fashion.
Dr Prem's Medical Tourism Guide is a manifestation of Dr Prem's knowledge and experience in the industry. Dr Prem has evaluated more than 90 medical tourism destinations and has done extensive research.
Dr Prem's Wellness Tourism Guide acquaints the visitor with the nuances of wellness tourism, alternative medicine, spa treatments, and integrated medicine, biomedicine, homeopathy and wellness therapies to name a few.
Contact us to know more about the possibilities of working together.