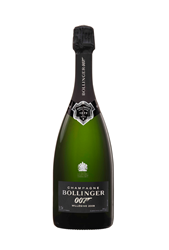 "Our SPECTRE Limited Edition is a unique opportunity to discover this rare 2009 vintage expression from Bollinger, presented in an innovative gift box inspired by the legendary elegance of agent 007" - Jérôme Philipon, President of Champagne Bollinger
(PRWEB UK) 14 September 2015
SPECTRE Limited Edition contains a unique Bollinger cuvée from the 2009 vintage, released exclusively to celebrate the continuing partnership between Champagne Bollinger and James Bond. The 2009 vintage is a Champagne of great character, whose elegance is reminiscent of the famous secret agent. As with any vintage Bollinger Champagne, the 2009 perfectly reflects the House style; the expression of the terroir and the aromatic richness are beautifully enhanced in this blend. Bollinger Chef de Cave Gilles Descôtes says "we have kept the best, the richest wine".
As well as a unique Bollinger vintage, the SPECTRE Limited Edition will be encased in a sleek Carré Basset designed black cool-box with embossed silver Bollinger and 007 branding. The exterior is designed to mimic the texture of the gun grip on 007's Walther PPK, whilst the insulated interior will keep the bottle chilled for up to two hours once removed from the fridge, making it the perfect portable Champagne for all secret missions!
The release of the SPECTRE Limited Edition marks the continuation of a long lasting partnership between EON Productions, the producers of the Bond franchise, and the House of Bollinger. Bollinger has featured in 13 Bond films to date and has been the exclusive Champagne partner since MOONRAKER in 1979.
The Champagne Bollinger partnership with Bond is, rather uniquely, based on a gentlemen's agreement from the early 1970s. At the time, Champagne Bollinger was being run by Madame Bollinger's nephews Claude d'Hautefeuille and Christian Bizot. They sought to continue their late aunt's good work in building the brand of Bollinger, whilst remaining true to its heritage and tradition. When film producer Albert 'Cubby' Broccoli was seeking a Champagne House to match James Bond's on-screen impeccable taste and panache, he chose Bollinger, but the House was still traditionally quite reserved at heart. Adamant that Bollinger was right for his suave secret agent, Cubby took his time and made friends with Christian Bizot, bonding over their shared love of wine.
Since that encounter, Bollinger has been featured in 13 Bond films in an association that has lasted for 42 years. James Bond's first encounter with Bollinger, however, was actually a literary one; Tiffany Case sends Bond a bottle to his cabin on the Queen Elizabeth in the novel of Diamonds Are Forever. The first appearance in a film was when then Bond Roger Moore ordered Bollinger from room service in Live and Let Die. From that moment on, Bollinger has been Bond's Champagne of Choice in every big screen outing.
SPECTRE will be the 14th Bond film to feature Bollinger as James Bond's Champagne of choice, with the discerning secret agent this time deciding to drink the exclusive prestige cuvée Bollinger R.D. 2002.
The RRP of the Champagne Bollinger SPECTRE Limited Edition will be £125 and the product will be available for purchase from 1st October 2015. Stockists will include Selfridges, Berry Bros. & Rudd and http://www.TheChampagneCompany.com
For any further information on the Champagne Bollinger SPECTRE Limited Edition please contact;
John Franklin - Communications Manager - John(at)Mentzendorff(dot)co(dot)uk / +44 207 840 3600
Elsa Azoulay - Marketing Assistant - Elsa(at)Mentzendorff(dot)co(dot)uk / +44 207 840 3600