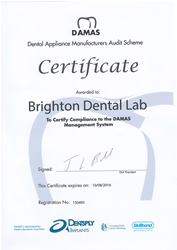 Smile With Confidence
Hove, East Sussex (PRWEB UK) 16 September 2015
DAMAS is an acronym for Dental Appliance Manufacturers Audit System; a quality management system designed specifically for the manufacturers of custom made dental appliances.
The accreditation means that the clinic's laboratory complies with the necessary standards for quality when creating dental prosthesis.
Clinical Director, Dr. Bruno Silva, said the DAMAS accreditation was an achievement for the laboratory – and demonstrated the clinic's dedication to providing the best possible services for its patients.
"The DAMAS accreditation is another way for the Brighton Implant Clinic to assure our patients that we are working to the highest standards and complying with industry regulation, while keeping dental implant treatments affordable. It's a real credit to our technicians in the laboratory," Dr. Silva said.
The DAMAS specifications are relevant to every facet of the laboratory's operations including dental prescriptions, employee training, maintenance and calibration of equipment, material traceability and more.
The standards required by DAMAS are similar to the US Food and Drug Administration's Quality System/Good Manufacturing Practice specifications.
For further information, please contact:
Dr. Bruno Silva
Clinical Director
Brighton Implant Clinic & Advanced Dentistry
Tel: 0844 815 1414
http://www.brightonimplantclinic.co.uk