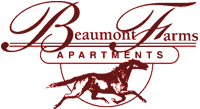 We really enjoy organizing entertainment for our residents, and they must feel the same way because turnout at our events is always spectacular.
Lexington, KY (PRWEB) September 16, 2015
Beaumont Farms, centrally located in Lexington's prestigious Beaumont Centre, appreciates the diversity of its residents and loves to celebrate them! Kids were welcomed earlier in the month to a movie night and now it's time for the more senior members of the community, as well as the four-legged ones, to get together for some fun.
The mature resident event takes place each month, and the first meeting in fall will be on Friday, September 18, from 12 p.m. to 5 p.m. at the Clubhouse. Intended for individuals who are age 55 or older, highlights include food, drinks, games, and pumpkin decorating.
Property Manager Michael Orsinelli says, "We really enjoy organizing entertainment for our residents, and they must feel the same way because turnout at our events is always spectacular. The monthly meeting of our seasoned residents is one of my favorites. There is an undeniable atmosphere of community among these people – many of whom have lived with us for five years or more."
Pooches get their own chance for socializing on Saturday, September 26, at an end-of-summer doggie paddle. Held from 11 a.m. to 3 p.m. at the Clubhouse Pool, there will be treats for those pups that get hungry after their swim (as well as for those that don't care to take a dip). Food for the humans in the family will also be available, courtesy of a cookout. The pool on the back of the property will be open for anyone who does not have a dog and wants to enjoy the last day before the pools are shut down for the winter.
Orsinelli adds, "We recognize that many people feel their dogs are part of the family. Having an end-of-the-season pool party for the pups is a great way for all family members to enjoy themselves. We understand that not everyone wants to swim with the dogs, so we are fortunate enough to have a second pool that can accommodate those individuals. What's great is that even those without pets like to come and watch them play in the water. Animals are just as much fun to observe as they are to interact with."
Residents are encouraged to take advantage of these fun opportunities to make new friends, eat great food and participate in the changing of the seasons. Beaumont Farms values its role as host to these events for the community and is happy to answer any questions that residents may have by phone at 859-224-7007.
About Beaumont Farms
With an unparalleled location and spacious units, Beaumont Farms Apartments offers one-, two- and three-bedroom options. Available in 12 floor plans and ranging in size from 671 square feet to 1254 square feet, there's something for everyone and every budget. The complex also features community space boasting a garden, a 24-hour fitness center, 2 swimming pools, and a 2.5-mile walking trail, all conveniently located around the corner from the Bluegrass Airport and Downtown Lexington.