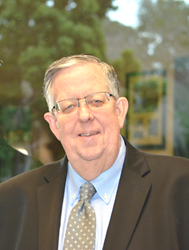 I am enjoying the opportunity to once again work directly with the team at Datron World to move the company forward.
San Diego, CA (PRWEB) September 17, 2015
Datron World Communications, Inc. (http://www.dtwc.com), a US-based leading supplier of military communications products, announced today a change in leadership with Art Barter assuming the position of President and CEO on a permanent basis, in addition to his position as President and CEO of the parent company Datron Holdings, Inc.
"I am enjoying the opportunity to once again work directly with the team at Datron World to move the company forward," said Art Barter, who purchased the company in 2004. "I am also very pleased to announce the recent promotion of Shannon Teem to Vice President, Finance."
Barter stated, "Shannon became Datron World's Controller last September and has done a wonderful job since joining our company. We are fortunate to have her as part of our team."
Barter also thanked the employees and the company's worldwide partners for their support during the past several years, looking forward to the ongoing success the company sees in its future.
Shannon Teem has been in a leadership role in the accounting and finance department for Datron World Communications since September 2014. Previously, she served as Controller of a $30-50M company in Carlsbad, CA from September 2002 to August 2014, and prior to that she obtained her CPA license while working in public accounting.
Art Barter joined Datron World Communications, Inc. in 1997 as the Vice President of Finance. After holding various roles within the company, Mr. Barter had the opportunity to purchase Datron from the Titan Corporation in 2004. Art holds bachelor's degrees in business and finance.
In addition to Datron, Mr. Barter is the CEO of Servant Leadership Institute (SLI), an organization dedicated to training leaders to foster an environment of trust and respect at all levels of their organization. Art has presented his servant leadership message to a wide variety of corporate, government, and non-profit audiences throughout the U.S. He's particularly effective at inspiring and equipping emerging leaders, CEOs, and executives who want to make a difference in the world.
His experience with Datron's transformation to a servant-led organization is chronicled in the book "The Art of Servant Leadership". Art's newest book, "Farmer Able: A Fable About Servant Leadership Transforming Organizations And People From The Inside Out" (March 2015), has been endorsed by leaders of servant-led companies including WD-40, Popeye's, Franklin Covey, Ken Blanchard Companies, & John Maxwell Co.
Any questions may be directed to Matt Fallows, Vice President of Strategic Marketing.
Contact information:
Matt Fallows
Datron World Communications, Inc.
mfallows(at)dtwc(dot)com
About Datron World Communications, Inc.
Datron World Communications Inc. delivers voice and data radio communications systems worldwide. The company's offerings enable governments, security forces, and commercial users to establish and maintain critical voice, data, and video connectivity. Known for their ease of use and reliability, Datron's products and systems are currently deployed in over 80 countries. Datron World Communications, Inc. was established in 1971 and is headquartered in San Diego, California, USA. For more information, visit: http://www.dtwc.com.