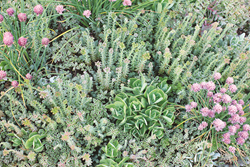 Our new green roof will provide our students and staff an important new venue to observe, collect data and analyze plants, ecosystems, insects and more
HONOLULU, HI (PRWEB) September 14, 2015
A quest for science knowledge, fueled by New Day Work Project funds, will bring a new green roof to the multipurpose educational facility at the Robert L. Stevenson Science Signature Middle School, 1202 Prospect Street in Honolulu. The living roof installation begins tomorrow, Tuesday, September 15.
The rooftop garden will provide students at this award-winning science school with expanded opportunities to explore ecosystems, aquaponics, composting, and more. The RL Stevenson project is based on a learning curriculum focused on science and a team teaching approach and will include a flexible multipurpose space to accommodate large instructional meetings.
This project is part of former Governor Neil Abercrombie's New Day Work Projects, designed to create jobs and get additional money flowing through the state's economy. The projects have high social value--for example, irrigation systems, energy efficiency projects, educational facilities, and transportation infrastructure. Since December 2010, Governor Abercrombie has approved the release of over $300 million for these projects.
"Our new green roof will provide our students and staff an important new venue to observe, collect data and analyze plants, ecosystems, insects and more," according to Principal Linell Dilwith. "It will provide a beautiful new learner-centered place for our students to fully engage in problem-based learning. We are looking forward to its completion."
Kyle Sasaki, ASLA, LEED AP Senior Landscape Architect at Ki Concepts designed the garden roof, which will be installed by Green Thumb, Inc. Hawaiian Sunshine Nursery is working with LiveRoof® Global, LLC of Spring Lake, Michigan, as the certified grower for this project. The new living roof will help earn LEED® points in several categories. This is important as the project team hopes to achieve LEED Platinum, the highest level of certification attainable from the U.S. Green Building Council's LEED green building program, the preeminent program for the design, construction, maintenance and operations of high-performance green buildings.
"Providing a unique learning environment for future scientists is an honor for Hawaiian Sunshine Nursery," says David Fell, President. "We value the research-based learning these students are conducting every day. We hope their living roof learning experience will provide life-long inspiration for environmental stewardship."
The 350 square foot garden will feature five plant selections laid in a pattern, including: Variegated Baby Sun Rose, Baby Sun Rose, Japanese Sedum, Rose Moss, and Tricolor Stonecrop.
Green roofs provide nature function and beauty. A patented, subterranean modular system unites the soil and plants creating a naturally beautiful meadow-like aesthetic. The roofs provide aesthetic, environmental and social benefits.
Financial benefits can also be achieved from a vegetative roof including: extension of roof life, energy conservation, enhanced public relations, and conservation of municipal septic systems.
About LiveRoof® Global, LLC
LiveRoof Global, LLC (http://www.liveroof.com) is the horticultural science company that developed the LiveRoof® Hybrid System, whose natural function and natural beauty offer the highest level of green roof performance at the lowest level acquisition-installation-maturation-maintenance costs. Combining the best elements of proven green roof technologies, LiveRoof establishes a seamless vegetative surface rooted in a continuous layer of soil. This design maximizes environmental benefits, energy savings and rooftop aesthetics. Regional growers in its global network adapt LiveRoof plants for local conditions and customize plant selection for every project. The proof is on the roof showcased in LiveRoof projects that stand out as signature elements on commercial, public, university and school buildings throughout the globe.
Media Contact:
Amber Poncé, GRP
Business Development Manager
LiveRoof Global, LLC
616-935-1964
About Hawaiian Sunshine Nursery
Hawaiian Sunshine Nursery, Inc. is a family owned and operated nursery specializing in bromeliads and other tropical plants. Established on Oahu in 1978, Hawaiian Sunshine Nursery (HSN) has additional nurseries on the Big Island and currently has over 25 acres under cultivation. HSN cultivates and cares for over 100 varieties of tropical plants ranging from anthuriums to xanthosoma, producing more than 400,000 individual plants each year. HSN growers and horticulturists provide the individual attention needed to ensure that each plant is healthy and of the best quality. As part of its commitment to quality, Hawaiian Sunshine Nursery is constantly improving its facilities and researching better propagation and cultivation methods.
Media Contact:
Lori Heu
LiveRoof/LiveWall Coordinator
(808) 259-7295 ext. 201
lori(at)hawaiinursery(dot)com
http://www.HawaiianSunshineNursery.com
About Robert L. Stevenson Science Signature Middle School
Stevenson Middle is a signature school emphasizing science, technology, engineering and mathematics in its curriculum. The grades 6 – 8 middle school provides programs and technology that address the unique intellectual, social and emotional needs of early adolescents to ensure students will be college and career ready. Educators improve instruction based on data review from the annual state assessment, monthly common formative assessments, data for school improvement and the school quality survey. Stevenson Middle holds master plan meetings for parents to volunteer on various school and community based projects.
Media Contact:
Linell Dilwith
Principal
808-587-4520
Linell_Dilwith(at)hawaiidoe(dot)org
http://rlsms.k12.hi.us