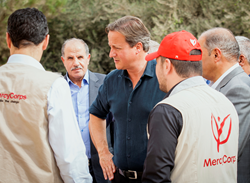 Syrians are worse off today than they were a year ago.
Amman, Jordan (PRWEB) September 14, 2015
The global organization Mercy Corps is urging UK Prime Minister David Cameron – and all world leaders – to respond more comprehensively to the growing humanitarian emergency in Europe and the larger crisis in the Middle East. The appeal – which came during a visit by Cameron to a flagship Mercy Corps program in Jordan's Zaatari village – is part of a broader call by Mercy Corps for world leaders to push for peace in the troubled region.
"Syrians are worse off today than they were a year ago, whether they are still in Syria or in neighboring countries," says Simon O'Connell, Executive Director of Mercy Corps in Europe. "With no prospect for peace, they are gambling with their lives, only to find bad, if not atrocious, conditions when they arrive in Europe. Mercy Corps urges the prime minister and all the European Union leaders to respond with urgency."
For years, Mercy Corps has been working to relieve the intense suffering of civilians in Syria as well as the hardships faced by refugees seeking safety in neighboring countries. As the crisis spills into Europe, Mercy Corps is expanding its operations to help refugees there.
"The events in Europe are a wake-up call that we all must pay greater attention to the crisis in Syria," says O'Connell. "Humanitarian organizations are struggling to keep up with needs that are growing exponentially. The international community must adequately fund the humanitarian response – and exercise its power and influence to bring peace to Syria. Ultimately, a political solution is the only solution to this catastrophe."