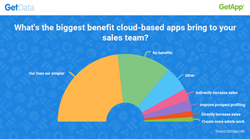 (PRWEB) September 24, 2015
A new survey by GetApp the largest cloud-based business apps marketplace, has outlined the impact of cloud-based software solutions on small businesses' sales teams. While the majority of the US-based respondents highlighted a positive impact of cloud solutions on their teams, 25.8% of respondents saw no benefit at all — raising questions of the perceived advantages of these applications in the sales arena.
The survey is part of GetApp's ongoing research program, GetData, and is based on the responses of 500 senior professionals, aged 25 to 54, from small and medium-sized business across a number of different industries. More than half of the surveyed panel had positive experiences when applying cloud-based systems to sales workflows. These figures include 46.4% of respondents who stated that cloud-based solutions had made the lives of their sales teams simpler, indirectly increased sales (5.6%), and improved their prospect profiling (5.4%).
However, more than a quarter of the panel identified no positive impacts of cloud-based solutions to their sales teams, a sizeable percentage that may be concerning for SaaS providers of file storage, project collaboration, and similar cloud services. A total of 25.8% of respondents said that cloud solutions do not help their sales team in any way, while 2.2% stated that the systems only create more admin work for their teams.
Christophe Primault, co-founder and CEO of GetApp, says, "The results of this survey highlight the need for small businesses to ensure that they choose the right sales software and implement it properly. Given that three quarters of sales teams say they are reaping the benefits of cloud-based apps, it's likely that the quarter who aren't have either made the wrong software choice, or have failed to integrate it into their sales processes in the best way."
Out of the possible seven responses posted to the panel, only 2.8% cited a direct increase in business sales as the biggest benefit of their use of cloud-based solutions.
"For the industry it is encouraging to see the level of positive responses gathered by this survey, but it's necessary to analyze the data that may concern the market," says Sam Jefferies, Digital Marketing Executive at CRM and Business Applications provider, Workbooks.
"The number of factors that can result in a negative experience with cloud-based solutions for example, include inadequate training of new systems, finding the right solution for the right business, and more. The fact that only a small percentage of respondents identified a direct link between a solution and an increase in sales highlights the level of work that still needs to be done by providers with small and medium sized businesses across these industries."
The GetData research program is conducted independently by GetApp to gain an understanding of the impact of SaaS and cloud-based solutions on small and medium sized companies, as well as insights into the dynamic interaction between SaaS customers and their products and services.
Full survey details:
Answers to the question "What's the biggest benefit cloud-based apps are bringing to your sales team?"
#1: They've made our lives simpler (46.4%)
#2: They don't help our sales in any way (25.8%)
#3: Other (11.8%)
#4: They indirectly increase our sales (5.6%)
#5: They improve our prospect profiling (5.4%)
#6: They directly increase our sales (2.8%)
#7: They create more admin work for us (2.2%)
Demographics: 500 US-based respondents from a panel of SMBs (Small and Medium-sized Businesses). Respondents are aged between 25 and 54 and have an average inferred annual income of $24k – $150k.
More about GetApp: GetApp, a Gartner company, is an online marketplace for cloud-based business apps, specializing in helping small and medium-sized businesses find, research, and get in touch with business app providers from over 100 software categories. GetApp's Europe office is based in Barcelona, Spain, and the U.S. office is in San Francisco, CA.