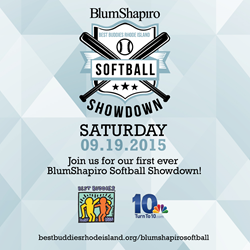 "We could not be prouder to support Best Buddies of Rhode Island – an organization that makes such a valuable difference to our community's youth," said Michael Hanna, BlumShapiro Partner
PROVIDENCE, R.I. (PRWEB) September 15, 2015
BlumShapiro is inviting Rhode Islanders to pick up some peanuts and crackerjacks and join them Saturday, Sept. 19 for the Inaugural BlumShapiro Softball Showdown to benefit Best Buddies RI.
The BlumShapiro Softball Showdown will be a slow-pitch softball tournament in Lincoln. The tournament will pit more than a dozen teams representing a wide range of local businesses against one another – all to raise funds for Best Buddies of Rhode Island, a nonprofit organization dedicated to creating opportunities for individuals with developmental disabilities.
The tournament will be dedicated to the memory of Guy Abelson, a beloved RI philanthropist and Best Buddies Rhode Island Advisory Board member who passed away suddenly after suffering a heart attack. The tournament will begin at 10 a.m. at Lonsdale and Lime Acre Parks in Lincoln and will conclude with an awards ceremony at 6 p.m.
"We could not be prouder to support Best Buddies of Rhode Island – an organization that makes such a valuable difference to our community's youth," Michael Hanna, Partner, BlumShapiro, said. "We look forward to seeing our families, friends and neighbors in Lincoln for a full day of family fun, and – of course – we look forward to interacting with our Best Buddies teammates to win the inaugural championship trophy!"
Each participating team will be joined on the field by one of Best Buddies of Rhode Island's High School Friendship Chapters, and the tournament's rules give special advantages to teams who reached certain fundraising milestones. The event's goal is to raise more than $40,000 for Best Buddies of Rhode Island – with tournament proceeds supporting their life changing Friendship Programs.
Best Buddies Friendship Programs are implemented in 21 schools throughout Rhode Island, and the nonprofit's goal is to be in every school district by 2020.
"This type of fun, interactive event is exactly in line with our mission at Best Buddies, and we are very grateful for BlumShapiro's support," Matthew Netto, Director of Best Buddies of Rhode Island, said. "Our student leaders can't wait to take the field with our sponsors, and we look forward to a fun, successful day."
While tournament games are played, guests and spectators will have the opportunity to network with business leaders from across the state, enjoy various games and participate in a Swing-a-thon with their children, or simply sit back with a hot dog and enjoy fun and competitive softball.
Participating teams include: BlumShapiro, Channel 10, Dimeo, Alex and Ani, Lifespan (Team Abelson), Thirsty Beaver, Duffy & Shanley, Fogarty Center, Blue Cross & Blue Shield of Rhode Island, KLR , Lincoln Little League and Pawtucket Credit Union.
Other generous sponsors include: Petrocelli Marketing, Claflin, The Plastics Group of America and Douglas Lumber Kitchens and Home Center
Anyone interested in donating to Best Buddies of Rhode Island can do so here >>
About BlumShapiro
BlumShapiro is the largest regional business advisory firm based in New England, with offices in Rhode Island, Massachusetts and Connecticut. The firm, with over 400 professionals and staff, offers a diversity of services which includes auditing, accounting, tax and business advisory services. In addition, BlumShapiro provides a variety of specialized consulting services such as succession and estate planning, business technology services, employee benefit plan audits and litigation support and valuation. The firm serves a wide range of privately held companies, government and non-profit organizations and provides non-audit services for publicly traded companies.
About Best Buddies
Best Buddies® is a nonprofit 501(c)(3) organization dedicated to establishing a global volunteer movement that creates opportunities for one-to-one friendships, integrated employment and leadership development for people with intellectual and developmental disabilities (IDD).
Founded in 1989 by Anthony Kennedy Shriver, Best Buddies is a vibrant, international organization that has grown from one original chapter to almost 1,500 middle school, high school, and college chapters worldwide.
Best Buddies programs engage participants in each of the 50 United States, and in 50 countries around the world. Best Buddies' seven formal programs – Best Buddies Middle Schools, High Schools, Colleges, Citizens, e-Buddies, Jobs and Ambassadors – positively impact nearly 700,000 individuals with and without disabilities worldwide. Best Buddies is currently operating in 21 Middle Schools, High Schools, and Colleges across the state. We have opened up 7 new chapters in the past year and currently have 1,300 members. )
Best Buddies volunteers annually contribute, at no cost to their communities, support services that equate to more than $164 million USD. As a result of their involvement with Best Buddies, people with IDD secure rewarding jobs, live on their own, become inspirational leaders, and make lifelong friendships.
Although Best Buddies has advanced tremendously in its short existence, many areas of the country and many regions of the world still lack programs to help people with IDD become part of mainstream society. With that in mind, Best Buddies is systematically implementing its 2020 Initiative, which will witness the organization's continued significant growth, both domestically and overseas.