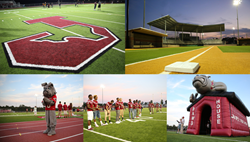 We are thrilled with the new athletic complex.
Austin, TX (PRWEB) September 14, 2015
The community of Jasper, TX gathered on Thursday, last week to watch the Jasper Bulldogs battle the West Orange-Stark Mustangs at the new $5.68 million dollar athletic complex designed and built by Hellas Construction. The game was the second junior varsity home game played at the new stadium.
"We are thrilled with the new athletic complex," said Dr. Skuza, Jasper ISD's Superintendent of Schools. "The students have enjoyed playing on the new synthetic turf surfaces." Bulldog Field features Hellas' Matrix® Turf with REALFILL™ infill, a popular system that provides superior performance and playability for athletes. It includes the Jasper ISD logo, football and soccer lines, goalposts, scoreboards, bleachers, lights, light poles, and a 60' long pressbox.
Construction at Jasper began in December 2014 and besides Bulldog Stadium Hellas built a running track, a baseball stadium, and a softball stadium with concession stands and restrooms. The running track and field event areas feature Hellas' exclusive epiQ TRACKS® V300, a non-petroleum product characterized by its durability, predictability, and resiliency.
The complex features custom gateway entries, decorative keystone block retaining walls, and paved walkways. Recessed masonry dugouts, bullpens, covered batting cages, netting systems, lights, scoreboards, four stormwater retention ponds, covered bleachers, and a press box are other essential pieces the project has received.
"Hellas is very proud of Jasper ISD's new athletic complex," said Tianna Flores, Hellas Construction's Design Director. "This is a great project for us and we are excited to know that Jasper's athletes are enjoying their new football field."
The next game for the Jasper ISD Bulldogs will be held on October 1 against the Cleveland Indians.
About Hellas Construction
Headquartered in Austin, Texas, Hellas Construction is a nationwide contractor with a strong reputation for delivering premium-quality sports construction projects across the United States. Hellas has the ability to custom-manufacture and install its own synthetic surfaces for field sports, running tracks, and tennis courts, by controlling all related operations. For more information, visit hellasconstruction.com and matrix-turf.com or follow them on twitter and Facebook.
About Jasper ISD
Jasper ISD is a school district based in Jasper, TX. Also known as "the jewel of the forest," it is located 130 miles northeast of Houston, TX and has a population of approximately 7,590. Jasper ISD is a 4A school district recognized by the Texas Education Agency in 2009. To find more information on Jasper ISD, please visit http://www.jasperisd.net.