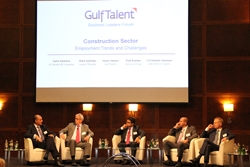 For many young people, their image of a career in construction is someone pouring concrete on a hot day, whereas in reality our roles are much more diverse.
(PRWEB UK) 15 September 2015
Construction companies across the Gulf region continue to seek talent for their projects, according to a panel of company directors from the construction sector who spoke at a leading industry event held in Dubai today.
The event was organised by regional online recruitment firm, GulfTalent, and held in Jumeirah Emirates Towers, Dubai. It was attended by over 50 delegates, including CEOs, Human Resource Directors and other senior executives from the region's largest construction companies and related advisory firms. The discussion panel consisted of senior executives from Amana Contracting, ARCADIS EC Harris, Laing O'Rourke, Al Tamimi & Company, as well as GulfTalent.
The panel found that, with public sector spending under pressure from lower oil prices, award of new construction projects had slowed down. However, previously awarded projects were continuing without impact. As a result, the sector is facing a continued need for skilled staff across most roles and specialisations, albeit at a more moderate pace than a year ago.
UAE most attractive market for talent
According to the panel, the UAE remains the easiest market for hiring expatriate talent, while Saudi Arabia is the most challenging. One panel member reported having to decline lucrative projects in Saudi Arabia, due to not having sufficient staff. As a result, construction professionals are offered the region's highest salaries in Saudi Arabia.
The Middle East region, as a whole, remains an attractive destination for construction professionals globally, according to the panel, especially in the context of a slowdown in Asia and other emerging markets. For employers targeting this pool, the rising cost of living in the region, especially housing and school fees, is a concern, exacerbated by recent cuts in subsidies. Media coverage of armed conflict in parts of the region had heightened perceptions of regional risk among some potential candidates, some employers reported, although overall interest in the region remained strong.
Visa restrictions
Several employers present reported facing challenges in filling their vacancies due to restrictions on employment of certain nationalities in parts of the Gulf region. While over the long run, they could switch to alternative sources of talent, they found it particularly challenging when such policy changes were introduced at short notice. One speaker described the challenge of adapting to changing visa legislation as 'following a moving target'.
Attracting Gulf nationals
On the subject of attracting local talent, firms faced the biggest challenge in Saudi Arabia and Oman, where nationalisation targets are higher and are most rigorously enforced. Panelists cited an 'inaccurate' image of the construction sector among nationals as a key obstacle to attracting them, on top of the general shortage of skilled nationals in the engineering domain. One speaker mentioned that "For many young people, their image of a career in construction is someone pouring concrete on a hot day, whereas in reality our roles are much more diverse. The private sector, the industry associations and the governments all need to work together to change such perceptions".
The panel also complained that the region's construction sector was not investing sufficiently in the development of young talent. This was driven in part by the extreme competitiveness of the market and high price-sensitivity of clients. The 'project-based' nature of the construction business in the region made it even harder to plan for the long term and invest in developing talent over many years. As a result, graduate programmes were far less prevalent in the Gulf than in other parts of the world. Instead, many construction firms rely heavily on rapid hiring of experienced staff on a 'just-in-time' basis when they win projects, and trimming down staff numbers quickly when projects come to an end.
The event organiser, GulfTalent, is a leading online recruitment portal used by over 6,000 employers in the Middle East across different industries, including construction, providing them access to over 5 million professionals, covering both local and expatriate talent. Further insight and research reports on key employment trends in Gulf countries are available for download free on GulfTalent's website, http://www.gulftalent.com.