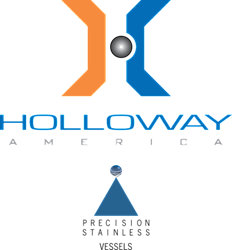 People flock to PROCESS EXPO because it highlights new technologies and innovations, making it a perfect event for HOLLOWAY.
Springfield, Mo. (PRWEB) September 14, 2015
HOLLOWAY AMERICA recently announced it will showcase at PROCESS EXPO 2015, a global food equipment and technology show, in Chicago this week—today through Friday, September 18. As a leader in the stainless steel tanks and pressure vessels industry, HOLLOWAY AMERICA is a chief presence at the annual global food and beverage trade show. "This will be an exciting show for HOLLOWAY AMERICA to be part of," said Director of Marketing Randy Colwell. "The PROCESS EXPO is an excellent opportunity for us to exhibit our custom solutions for various sectors of the food and beverage market."
Representatives with HOLLOWAY AMERICA will be present at the expo to provide more information on the company's varying stainless steel pressure tanks, vessels and parts throughout the four-day event at McCormick Place in Chicago. Another primary attraction at PROCESS EXPO 2015 will be an Innovations Showcase, a self-guided poster exhibition open to all attendees, held in the North Hall.
Located at Booth 6953 on Level 3 in the North Hall, HOLLOWAY will exhibit its custom design, engineering and fabrication solutions for the food, dairy, wine, beverage and pharmaceutical industries. HOLLOWAY's products utilize stainless steel and exotic alloy materials and include custom-fabricated tanks and pressure vessels (including original Precision Stainless, Inc. components), mixers and related custom equipment. In addition to discussing custom pressure equipment capabilities, HOLLOWAY representatives will be available to offer solutions for most any machine or piece of equipment attendees could need as well as arrange appointments for on-site repairs, maintenance and retrofits or custom fabrication.
Colwell also mentioned that his HOLLOWAY colleagues are eager to share the benefits of one-of-a-kind fabrications for companies visiting PROCESS EXPO 2015: "The food and beverage industries have a mutual need for safe, modern and highly efficient pressure equipment by HOLLOWAY engineers. The connections we make at PROCESS EXPO each year often grow into long-term client relationships. This year, we're particularly excited to discuss options for stainless steel tanks and pressure vessel parts, which truly set HOLLOWAY apart." As Colwell alluded to, HOLLOWAY has the expertise to engineer unique solutions that improve production levels and ensure any process operates more efficiently.
HOLLOWAY personnel will be ready to field inquiries into the company's most innovative and industry-specific products, whether those inquiries concern initial project planning, technical questions about product uses or details about custom fabrication. Speaking to the food and beverage industry theme of the expo, Colwell said, "We're glad to join other leading equipment manufacturers in the nation that focus on food and beverage processing. Attendees flock to PROCESS EXPO because it highlights new technologies and innovations, making it perfect for HOLLOWAY."
For more information on custom fabrication of tanks, pressure vessels and equipment or for details about PROCESS EXPO 2015, contact HOLLOWAY AMERICA at 417.863.0077 or by email at info(at)HollowayAmerica(dot)com.