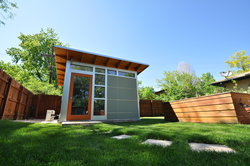 Oktoberfest 2015 is about beer, bratwurst and Studio Shed's 15% off sale on backyard sheds.
Louisville, Colo. (PRWEB) September 16, 2015
In Bavaria, Oktoberfest is all about the beer and bratwurst. In Boulder it's about beer, bratwurst and backyard sheds. On September 18, Boulder-based Studio Shed launches their national 2015 Oktoberfest Sale, offering homeowners significant savings on the company's high-end backyard sheds. The quick-to-install prefabricated structures are used as home offices, music and art studios, personal gyms and retreats, pool houses, guest rooms, garages, storage units and more.
The sale, offering 15% off the combined cost of shed and shipping for all Studio Shed models, is in honor of the 46th Annual Denver Oktoberfest – called America's best Oktoberfest by USA Today. To traditional Denver Oktoberfest activities such as keg bowling, bratwurst eating and dachshund racing, visitors to studio-shed.com can add "shed configurating."
To take advantage of the sale visit http://www.studio-shed.com and follow the sale link or go to the online Shed Configurator tool. The 3D Shed Configurator is an online build and price tool that allows both serious shoppers and shed dreamers to build and price a virtual shed, complete with selected siding, colors, windows and doors.
Hi-tech backyard sheds are part of a national trend in which homeowners seek alternative, affordable solutions to fill the need for more living space.
"Most households find they don't need a lot more space – they need smarter, affordable space. The right space can dramatically improve quality of life," says Jeremy Horgan-Kobelski, Studio Shed co-founder. "Backyard sheds are versatile too. Many do double-duty as a backyard bar-and-buffet for parties."
The company's most popular Signature Series models range from $7,500 to $15,000. All Signature Series models qualify for the 2015 Oktoberfest Sale's 15% discount. Installation packages are not discounted. The sale runs September 18 through October 9, 2015. Studio Shed offers financing packages of up to 80%.
Most Studio Shed structures are sold as DIY Installation Kits, which are typically assembled by a homeowner with carpentry experience or by a local contractor. The company also offers installation by certified teams in most major markets.
Based in Louisville, Colorado just outside Boulder, Studio Shed is the leading manufacturer of high-efficiency prefabricated backyard sheds constructed of quality, sustainable building materials. In 2014 and 2015 Studio Shed received Best of Houzz Satisfaction and Best of Houzz Service awards, respectively. For more, visit Studio-Shed.com.