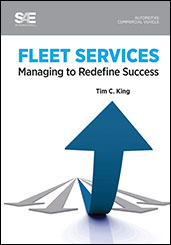 Fleet Services – Managing to Redefine Success provides a keen focus on operations, cost management, leadership, and customer service is presented in this book for fleets to thrive in today's competitive business environment
WARRENDALE, Pa. (PRWEB) September 15, 2015
SAE International offers a new book that brings together the interests of fleet managers and their customers to achieve a higher level of business performance.
Fleet Services – Managing to Redefine Success provides a keen focus on operations, cost management, leadership, and customer service is presented in this book for fleets to thrive in today's competitive business environment. Basic concepts and customer service fundamentals, along with integrated best practices, and business tools are fully described. This model can be applied by service groups of any size to achieve quality performance benefits for both the customer and the fleet-provider.
Fleet Services: Redefining Success presents:

A back-to-basics approach that begins by redefining a fleet's customers to fully identify and provide customer-driven services.
A hierarchy for success that includes development of management goals and strategies to exceed customer expectations.
Best practices and associated business tool requirements that assure exceptional service and win-win results.
An innovative business model that maximizes opportunities and positive outcomes for fleet service providers.
Published By: SAE International
Binding: Hardbound
Product Code: R-447
ISBN: 978-0-7680-8173-2
Price: $74.95 - SAE International Members save up to 20 percent off list price.
For more information, including free front and back matter, or to order Fleet Services: Redefining Success, visit http://books.sae.org/r-447/.
To request an electronic review copy of the book, email pr(at)sae(dot)org. Forward published reviews to Shawn Andreassi at pr(at)sae(dot)org or SAE International, 400 Commonwealth Dr., Warrendale PA, 15096-0001, or to receive a print copy of the book or another equivalent SAE International book.
SAE International is a global association committed to being the ultimate knowledge source for the engineering profession. By uniting over 137,000 engineers and technical experts, we drive knowledge and expertise across a broad spectrum of industries. We act on two priorities: encouraging a lifetime of learning for mobility engineering professionals and setting the standards for industry engineering. We strive for a better world through the work of our charitable arm, the SAE Foundation, which helps fund programs like A World in Motion® and the Collegiate Design Series™.