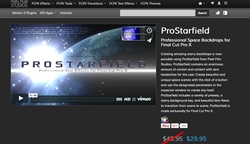 This plugin gives the feel of another world.
Aliso Viejo, CA (PRWEB) September 14, 2015
Creating starry backdrops is now possible using ProStarfield from Pixel Film Studios. ProStarfield contains an enormous amount of control and content with zero headaches for the user. Create unique space scenes with the click of a button and use the designated parameters in the inspector window to create any look! ProStarfield includes a variety of presets, a starry background key, and beautiful lens flares to transition from scene to scene. ProStarfield is made exclusively for Final Cut Pro X.
ProStarfield comes loaded with dozens of premade settings so that the user can drag and drop into the FCPX timeline. Presets include star fields that start from the beginning and presets that are midway through animations so users can choose between progressive cycles and non-stop consistency. Presets emit from the center, top, bottom, left, right and many more angles. Each preset can be customized infinitely using on-screen controls for positioning and parameters in the inspector window.
Users can change the rate at which the camera moves around ProStarfield's 3d environment using the parameters located in the Camera Controls section. Users are given control over the rotations of the X, Y, & Z axis to create beautiful 3D looks. The emission range and angles located under Emission Controls can also be adjusted to change the radius and angles in which the camera travels within three dimensions.
Add a starry backdrop underneath selected presets to add depth to any shot. Turn off the presets' background and change the video blend to add so that layers will mix flawlessly. Create any layout using intuitive controls in the FCPX inspector window by utilizing the easy-to-use star generation button. Also, change the amount of stars in the field and their sizes using simple slider controls.
Make a powerful transition between scenes by using Pixel Film Studios lens flares. Three lens Flares are included in this package so that users can have extra tools for creating shots in space. Change the blend mode, flip directions and more using controls in the inspector window. For more beautiful lens flares please check out TransFlare 4K by Pixel Film Studios.
Established in 2006, Aliso Viejo, California-based Pixel Film Studios is an innovative developer of visual effects tools for the post-production and broadcast community. Their products are integrated with popular non-linear editing and compositing products from Apple FCPX. Apple, the Apple logo, Mac OS X, and Macintosh are registered trademarks of Apple Inc. in the U.S. and/or other countries. All other trademarks and trade names are the property of their respective owners.