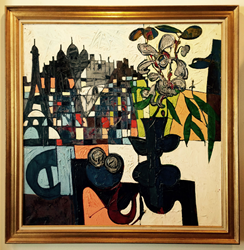 Beverly, Massachusetts (PRWEB) September 15, 2015
Twentieth Century Modern Design and Fine Art will feature at Kaminski Auctions' September 27th, 2015. The fall sale will offer serious buyers an exciting selection in all collecting genres; including Georg Jensen silver, Steuben and Lalique sculpture, art by Hans Hoffman, George Braque, Marc Chagall and American artists Ray Prohaska, Thomas R. Dunlay and Cherry Jeffe Huldah.
There is an important abstract work by the French artist Claude Venard (French, 1913-1999). The piece is titled "Le Fleur Allumeé" and is a mosaic of bold colors with architectural forms and abstract flowers. Originally purchased from the Galerie Felix Vercel, Paris in 1989, the lot includes the receipt and certificate from the artist and is estimated at $8,000-$12,000.
Post war illustrations include an American Weekly front cover by Arthur Sarnoff (American, 1912-2000), a Saturday Evening Post illustration by Ray Prohaska (American, 1901-1981) and a preliminary drawing for the Saturday Evening Post from 1954 attributed to Norman Rockwell.
New York collectors will be interested in a signed Steuben copper wheel engraved crystal sculpture titled "New York, New York," designed by Paul Schulze, in 1984. The seventeen inch high sculpture features images of the Woolworth Building, Chrysler Building, Empire State Building, and Twin Towers of the World Trade Center. Each building is copper wheel engraved and the lot includes the original fitted box. From a California estate the sculpture was originally purchased for $51,000 and is estimated at $15,000-$18,000 for this auction.
A monumental Rafael Consuegra, metal sculpture, entitled "Arpus," numbered 3 of 8, stands seventy two inches tall and is made up of red metal organic and angular forms and is valued at $3,000-$5,000.
Decorative arts highlights include a rare Jean-Pierre Cassigneul (French, b. 1935), four-panel wood screen, "Le Jardin du Luxembourg," edition 43 of 100, standing fifty five inches high it was originally purchased from the Wally Findlay Galleries, New York, in 1984 and is estimated at $40,000-$70,000. There is also a group of five large mid century Italian glazed pottery vases, signed "Zabcos," the tallest standing twenty four inches in height, ovoid and bell shape in form with whimsical birds etched in charcoal estimated at $3,000-$5,000.
A Georg Jensen sterling silver flatware service for ten, in the "Acorn" pattern, with approximately 150 pieces total, and additional serving pieces is valued at $10,000-$15,000. A six piece Mexican sterling silver tea set marked "San Francisco, Leeves" weighing approximately 265.3 troy weight is valued at $2,700-$3,200.
Furniture highlights include a monumental Art Nouveau cabinet, attributed to French architect Hector Guimard, standing ninety three inches high by fifty nine inches wide estimated at $10,000-$20,000, and several pieces from the Columbian designer Enrique Garcel including a set of ten bone dining chairs, a bone console table and bone coffee table. Of interest also, is a Cesare Lacca tea trolley, circa 1930-40, labeled "Mod. Dep. Made in Italy" on a small plaque valued at $1,500-$3,000.
Preview for this sale takes place Thursday, through Saturday, September 24th through 26th, 10:00 am-5:00 pm and day of sale beginning at 8:00 am at the Kaminski Auction gallery 117 Elliott Street, RT.62 Beverly, Massachusetts. For more information go to http://www.kaminskiauctions.com and sign up to bid with KaminskiLIVE.