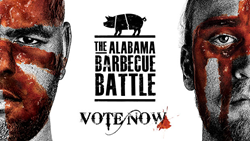 Alabama is not only home to the world's best barbecue, but also to fierce competition.
Montgomery, Alabama (PRWEB) September 14, 2015
As part of the Year of Alabama BBQ, the Alabama Tourism Department is proud to announce the winners of the Alabama Barbecue Battle. This year, 50 nominees competed in five brand-new categories to determine the best in each. Here are the winners:
Winners by Categories:
The Legends: Even after all these years, these legends are still building legacies, one plate at a time. WINNER: Lannie's Bar-B-Q, Selma, Alabama
The Rookies: In Alabama, it takes decades to become a barbecue legend, but these rookies are on their way. Who's on the path to the hickory-smoked hall of fame? WINNER: Saw's BBQ, Homewood, Alabama
Multi-Location: More than one location means your favorite barbecue is never out of reach. Good for us, bad for the pigs. WINNER: Jim 'N Nick's
The Mom and Pops: Nothing beats the old-school, single-location, family-run 'cue joint with a story just as good as the food. WINNER: Rusty's Bar-B-Q, Leeds, Alabama
The Dives: You know the place: There's always a line of hungry locals, your meal is served on something not normally considered a plate and you leave smelling like hickory smoke. WINNER: Charlie's BBQ, Odenville, Alabama
The top 10 restaurants in each category were selected based on more than 1,600 nominations made through social media over the past several months. Voting in each category began Aug. 6 and concluded Aug. 31 at midnight. Over one million votes were cast during the competition.
"Alabama is not only home to the world's best barbecue, but also to fierce competition," stated Lee Sentell, director of the Alabama Tourism Department. "This was clearly a competition between the fans of each restaurant. The five winning restaurants certainly have a lot to celebrate, but this competition turned out to be great exposure for everyone involved."
You can learn more about the Alabama Barbecue Battle winners and other Alabama culinary destinations and events at ILoveAlabamaFood.com.
Join the fun by using #AlabamaBBQ on Facebook, Twitter and Instagram.