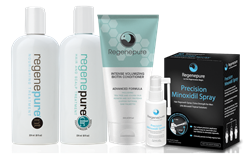 Regenepure is widely respected for formulating effective hair loss solutions that are sulfate-free, paraben-free, and made with natural and nourishing ingredients.
Hallandale Beach, FL (PRWEB) September 15, 2015
Luxury Barber, the premier online destination for distinct men's grooming products, has announced that trusted hair loss brand, Regenepure, is the company's Brand of the Month for September. Customers who purchase any Regenepure product on the Luxury Barber site will get 50% off a second Regenepure product. Regenepure is widely respected for formulating effective hair loss solutions that are sulfate-free, paraben-free, and made with natural and nourishing ingredients.
Regenepure is most well-known for their signature product: Regenepure DR. Regenepure DR is a ketoconazole shampoo that works to unclog the hair follicles of DHT, the waste product from testosterone. Ketoconazole is a powerful anti-fungal that is commonly used in treating dandruff and is also a trusted solution for curbing hair loss. Regenepure DR is also formulated with additional beneficial ingredients such as Emu and Jojoba oils, Saw Palmetto Extract, Caffeine and Vitamin B6, which work together to help address hair loss, nurture the scalp, and stimulate new growth.
Also available is the Regenepure NT, a nourishing treatment that is designed to soothe the scalp and volumize the hair. The NT is a perfect complement to the DR, as it helps to stimulate the hair follicles while ensuring the hair is healthy, thick, conditioned and clean. Regenepure's Intense Biotin Conditioner, which was created to transform lifeless, thinning hair to voluminous tresses with its infusions of Biotin, Tea Tree, Keratin, Silk Proteins and Copper Peptides, is perfect for all hair types. Both the Regenepure NT and Intense Biotin Conditioner are free of all sulfates, parabens, DEA and harsh chemicals, making it safe for hair that has been chemically treated or colored.
For those seeking to regrow hair in balding areas, the Regenepure Precision 5% Minoxidil Spray is the answer. Minoxidil is the only FDA-approved treatment for hair loss, and what better way to use it than in the most convenient swivel head applicator? Forget the mess of foam or dropper, Regenepure's minoxidil spray allows the user to directly target the bald spots in an even mist, preventing product waste and promoting maximum absorption. For enhanced results, Regenepure Essentials Hair Loss Supplements can be taken daily to promote hair growth from the inside. This biotin supplement has hand selected and carefully researched ingredients such as Biotin, Branch Chain Amino Acids, and Apple Polyphenols, to enhance the Regenepure topical products.
About Luxury Barber
Luxury Barber is the premier online destination for the finest men's grooming and anti-aging products on the market. Luxury Barber believes that being a gentleman and maintaining a well-groomed appearance is not just important- it's necessary. Luxury Barber offers a wide selection of men's hygiene and grooming products for shaving, hair, face, body, and anti-aging. In addition to having their own premium brand of men's products, Luxury Barber also offers a subscription box service that sends ten quality artisan grooming and shaving products to each subscriber every month. Discover the finest products in the best categories without the commitment. Discover new products while purchasing longtime favorites, at http://www.luxurybarber.com.