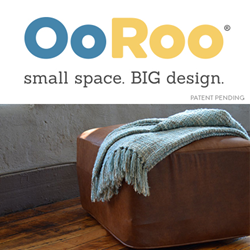 Fall River, Mass. (PRWEB) September 15, 2015
Lumpy hotel cots, noisy air mattresses that deflate in the middle of the night, expensive Murphy beds built permanently into a wall and hard-to-assemble sleeper sofas are no longer the only options for compact bedding. Around the world homeowners and their guests, travelers, and kids of every age through college are choosing to sleep on the latest bed design -- the multi-functional, space-saving, transportable, luxurious OoRoo Bed. They are also choosing OoRoo Pet for their pets and OoRoo Beach for their days on the beach or poolside or for evenings in the park at summer concerts.
The founder of OoRoo America and an Australian-born mother of three reimagined the bed to invent the OoRoo Bed during a home renovation in Newport, Rhode Island. She had finally had enough of the lack of sensible and comfortable compact bedding options on the market and set out to design a product that would meet her own family's needs and make life easier in every home - a low-maintenance, affordable, comfortable bed that could transform into furniture during the day and could easily travel or be moved.
Every part of the OoRoo manufacturing process take place right here in the United States. The OoRoo factory is a historic New England textile mill in the historic textile city of Fall River, Massachusetts. OoRoo proudly employs local mattress artisans and all products are crafted by hand and thoroughly inspected prior to shipment. Shipping directly from the factory also enables OoRoo America to cut out the middle man and keep prices low for its customers.
The patent-pending OoRoo Bed is the most flexible bed on the planet. It unfolds on a floor to form a luxurious bed for night and in seconds forms a fashionable ottoman, side table, bedroom bench, window seat or chair by day. It is so easy to move and transform that a child could demonstrate it in seconds. There are no frames or hard or mechanical parts. Every OoRoo Bed comes with a FREE ottoman cover or chair cover. A carry strap on the ottoman cover makes it easy to move your OoRoo from room to room or to travel with it. Additional fashionable OoRoo ottoman covers can be ordered to match seasons, decor, or taste.
The OoRoo Bed is the space-saving solution for unexpected guests and sleepovers, grandkids or in-laws visiting, homes without dedicated guest rooms, small-space living, college dorms, traveling, renovating and moving. Or use a dedicated guest room in another way and turn to your OoRoo Bed disguised in plain sight as an ottoman to sleep guests.
To learn more about OoRoo, or get your very own OoRoo Bed, OoRoo Pet or OoRoo Beach, visit OoRooBeds.com. You can also contact the company directly via email at info(at)ooroobeds(dot)com. Karen would delight in responding herself.