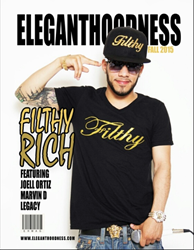 New York, NY (PRWEB) September 14, 2015
Today Coast 2 Coast Mixtapes announce the release of the latest single by New York artist, Filthy Rich, entitled "Bad & You Know It," which features production by Jimi Kendrix. The single is currently available for streaming and download at the Coast 2 Coast Mixtapes website.
Filthy Rich is currently seeking press opportunities, interviews, features, and more. He can be reached at through his official Twitter page.
About Filthy Rich: Young Filthy Rich is the co-founder of Filthy Rich Dynasty. As an aspiring New York rapper, Rich writes about his day-to-day experiences in the city. Raised in NYC, he listens to rap from all over the country, but what influenced him the most was the wide array of music played in his household while he was growing up. His parents would usually listen to Freestyle, Rock, and some Hip-Hop, but Hip-Hop was what he gravitated to the most.
He's been very fortunate to work alongside Multi-Platinum and Grammy Award Winning Producer Jimi Kendrix, which led to them creating the smash hit, "Bad & You Know It". The single features Jimi Kendrix and will be released on Rich's upcoming LP, "Dreams to Reality". With his previously released project, "#TheMixtapePt2" hosted by Jimi and DJ TNT, the streets are going crazy with "Catch Me Swerving" and the clubs are wild with "Get It On".
All his life, Rich has been in the mix with engineers, producers and artist. So by the age of 11, he dropped his first music video "Money Man" which became a hood sensation. Being so young he subsided from the music to enjoy sports & time with his friends. The love for rapping came back even stronger when he realized he would never work another day in his life if he did what he truly loved doing. He wanted the world to know him and hear him out. Like Lionel Richie once said, "My biggest hits are the ones that some people told me would ruin my career." He goes on to say, "Music should come from the heart and soul," which is why Rich's music speaks for itself. Rich wants to be able to touch people's mind, emotions, and souls from a distance through his music. For more info on Filthy Rich visit official Facebook page.
About Coast 2 Coast Mixtapes:
Coast 2 Coast Mixtapes are the most widely distributed mixtapes in the world, with over 100 million downloads/plays generated by over 300 volumes officially hosted by major artists. Coast 2 Coast has a solid reach in the new music industry with a digital magazine, DJ coalition, industry tips blog, yearly convention, and more. Coast 2 Coast Mixtapes represents a unique opportunity for artists of all urban genres, from major to indie. For more information, visit http://www.coast2coastmixtapes.com.