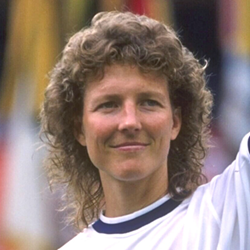 Honored. Speechless. And excited to be a part of future opportunity for others who are pursuing their dreams in the sports and business world.
Deerfield Beach, FL (PRWEB) September 15, 2015
Oxford City football Club, Inc. (OCQB:OXFC) and their wholly owned subsidiary CIT University have named their Sports Management School after Michelle Akers. From this day forward it will be called CIT University's Michelle Akers School of Sports Management.
CEO, Thomas Anthony Guerriero said, "Being the first in anything is always special. I can not think of a better ambassador to women in sports that encompasses greatness like Michelle Akers. This is a historic day for Oxford City, CIT University, and a continuation of advancement of opportunities that are for women in sports."
Michelle Akers stated, "Honored. Speechless. And excited to be a part of future opportunity for others who are pursuing their dreams in the sports and business world."
ABOUT MICHELLE AKERS
Michelle Akers is described by former USA coach Tony DiCicco as "the best woman that has ever played the game." Michelle Akers looms large in the pantheon of women's football. The first women's soccer player to gain global fame, she was named FIFA Player of the Century in 2000 and was widely recognized as the world's best player during her illustrious 15-year international career. Akers, an athlete ahead of her time, joined the national team upon its inception in 1985 and dominated the women's game with her skill, size, strength, and savvy, scoring the first official USWNT goal, and was the first to sign a shoe-endorsement. She was the leading scorer in the inaugural FIFA Women's World Cup™ with 10 goals in 6 matches, including the winner in the Final against Norway in Guangzhou, China to make the US the first ever Women's World Cup Champions.
She also set a World Cup record by scoring 5 goals in a 7-0 victory over Taiwan and earned both the Silver Ball Award and the Golden Boot, as she led the Americans to their first world championship. The powerful striker was the heart and soul for women's soccer in America from its very beginnings. "She was a warrior," said former team-mate and icon Mia Hamm. "She was our everything." After the 1991 WWC, Akers went on the play in two more FIFA World Cups (95, 99) and added another historic first by earning the first-ever Olympic Gold Medal for the US in women's soccer in 1996 by defeating China 2-1 in front of a sold out stadium of 90,000 fans. In 1999, she played in her final FIFA Women's World Cup once again dominating the field of play with her signature curly mane and relentless warrior mentality helping the US win their 2nd World Cup title in a heart-stopping 2-1 victory over China in The Rose Bowl, Pasadena, CA. Akers retired from international soccer just prior the 2000 Olympics after an historic 15-year career due to injuries. She finished her career with 105 goals in 153 games. In 1998, just prior to the World Cup in France, she also received FIFA's highest honor, the FIFA Order of Merit, for her positive contributions to the game.
Michelle Akers
US National Team
#10
1985-2000
Center Midfield/Forward
Played for 1st Ever US Women's National Team 1985 Record Goal Scorer FIFA World Cups 10 Goals
153 Caps
105 goals/37 assists/247 points
FIFA World Cup Champion 1991, 1999
FIFA Golden Boot Winner 1991
FIFA World Cup MVP 1999
Olympic Gold Medalist 1996
FIFA Merit of Honor 1998
FIFA Player of the Century 2000
After retiring, Michelle's passion is focused on horses through her public charity, Michelle Akers Horse Rescue & Outreach, Inc. At her 8-acre farm near Atlanta GA, she provides sanctuary, healing, and potentially happy homes to hurting and unwanted horses, as well as, facilitiating community outreach, leadership/personal development, awareness about horses and their herd culture, and connection and partnership between horses and humans. Michelle also works with athletes as individuals and small groups to help them reach their potential fitness, strength, mentality, and over all goals in competition and sport. To learn more about Michelle, go to http://www.michelleakers.org.
ABOUT OXFORD CITY (OXFC)
Oxford City is a diversified holding company, which manages a controlling interest in a number of portfolio companies, across a spectrum of sectors (Sports, Education, Media & Entertainment, Real Estate & Property Management). The Company's CEO, Thomas Anthony Guerriero, a Harvard Graduate and a veteran value investor, leads the company utilizing his proprietary vertical integration financial model in managing these portfolio companies. The Company believes it is strategically positioned to implement this vertical integration financial model incorporating all its divisions towards future growth.
Safe Harbor
This press release contains forward-looking statements within the meaning of Section 27A of the Securities Act of 1933, as amended, and section 21B of the Securities and Exchange Act of 1934, as amended. Readers are cautioned not place undue reliance on these forward-looking statements, which are only predictions and only speak as of the date hereof. Forward-looking statements usually contain the words "estimate," "anticipate," "believe," "plan," "expect," or similar expressions and are subject to numerous known and unknown risks and uncertainties. These risks and uncertainties could cause the Company's actual results to differ materially those indicated in the forward-looking statements. Investors are encouraged to carefully review regulatory filings prior to investment consideration. Past performance is no guarantee of future success or that there cannot be losses or business interruption. The Company is in a rapid growth sector that may or may not continue to grow in the future and therefore poses risks that may be different than other investments. Management regularly provides news and additional information believed to be true and accurate at the time of dissemination but has no requirement to modify, comment or change in the future should circumstance change or information prove to be inaccurate for any reason. Additionally, the Company makes every effort to comply with all applicable laws.