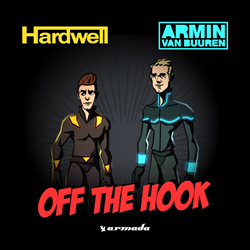 It's awesome to work with somebody who has a clear idea about his own sound but is also open to merge his ideas with mine. It's exciting to blend two worlds together and create something more than the sum of its parts.
New York, NY (PRWEB) September 15, 2015
It's not often that two of the world's biggest electronic dance music DJs and producers join forces on a club track capable of wreaking havoc whenever it's blasted from high-powered, high-fidelity soundsystems. This is one of those rare instances. Yesterday, GRAMMY® nominated artist, Armin van Buuren, and two-time DJ Magazine "#1 DJ," Hardwell, release their new clubland collaboration, "Off The Hook" (Armind/Revealed).
The Original Mix welcomes the listener with a cheerful, percussive horn on the intro that builds to a tantalizing, teasing signature synthesizer lead instantly recognizable by anyone who's attended an electronic dance music (EDM) festival this summer. This was a monumental summer track that received a reliably massive reaction every time Hardwell or Armin played it. At one point, the tempo slows seductively before ramping back up to full-throttle again and club-goers can feel sonic showers raining down on them as the whopping chorus crashes overhead. There's an interlude sans percussion with beautiful, soaring orchestral strings and a melodic synth mirroring the main lead. It's truly remarkable that these two winning producers could pack so much oomph into one track, because there's yet another interpretation of the main lead that feels distinctly inspirational and uplifting in a way not heard elsewhere in this track, even though the notes played are identical. Before long, the tweaky horns re-enter and build to a frantic tempo that sounds chaotic as it crashes down again into the chorus, this time even bigger, badder and more furious than before. Here is an epic tune that will flatten everything in its path. The Radio Edit cuts immediately to the main synth lead. It takes the Original Mix and boils it down to the most essential parts, compacting them tighter and squeezing out the air until only the key elements remain. The Radio Edit of "Off The Hook" is ideally suited for today's youth. It's perfect for those who have the shortest of attention spans.
Armin and Hardwell take their craft and their profession seriously, but they don't take themselves too seriously. They like to have fun and let loose, just as those in their audiences. A self-proclaimed "nerd" who can easily lose track of time while creating music in his recording studio, Armin has been a long-time fan of the Star Wars franchise. For his part, Hardwell has also been long enamored of outer-space, even naming one of his earlier tracks, "Spaceman." It should perhaps come as no surprise, then, that the official music video for "Off The Hook" presents Armin and Hardwell as animated action figures with a high-tech space theme. (Actual figures modeled after the music video characters will be available for sale in a very limited quantity.) Though the music video may depict Hardwell and Armin as android-like beings, as performers here on Earth, Armin and Hardwell are each devoutly passionate about music as only artistically obsessive humans can be. Their live performances as DJs are each individually a nonstop vortex of movement, high-energy and well-earned sweat.
Said Armin van Buuren of "Off The Hook," "It's so awesome to work with somebody who has a really clear idea about his own sound but is also open to merge his ideas with mine. I wanted to show the world that it can be exciting to try and blend two different worlds together and create something that's more than just the sum of its parts. The result is a peak-time stormer that works really well in both our sets!" Said Hardwell of the single, "It was great to finally work together with Armin and manage to produce one of the most unexpected collaborations!" Armin and Hardwell are like superheroes to their own legions of dance music fans and their music is, indeed, out of this world.
Get it here: http://ArmadaMusic.lnk.to/OffTheHook
Music video (teaser): https://www.youtube.com/watch?v=400YsjWKHY0&feature=youtu.be
For more information on Armin van Buuren, contact EMILY TAN Media Relations in the U.S., +1(917) 318-3758, EmilyEmilyTan@aol.com. Visit http://www.ARMINvanBuuren.com and http://www.ArmadaMusic.com. Follow EMILY TAN Media Relations on Twitter @EmilyEmilyTan.
# # #