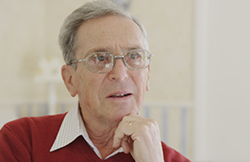 Shared stories can be a vital way for mesothelioma patients to find support and hope.
Raleigh, NC (PRWEB) September 19, 2015
Mesothelioma patients, advocates, and others are being invited to share their stories on social media in the lead-up to Mesothelioma Awareness Day on September 26th. Click here to read the full story on Surviving Mesothelioma's website.
The Asbestos Disease Awareness Organization (ADAO) has been hosting Twitter chats for mesothelioma victims and others on Tuesdays all through the month of September.
"Currently in the United States, we are witnessing one of the most crucial moments in Toxic Chemical reform and it is the closest we have been to an asbestos ban since 1989," says ADAO founder Linda Reinstein whose husband died of mesothelioma.
The final #ENDMeso chat will take place on Twitter on Tuesday, September 22 from 12 to 1 Eastern Time. The topic will be "What Are You Doing for Mesothelioma Awareness Day"?
"Shared stories can be a vital way for mesothelioma patients to find support and hope," says Alex Strauss, Managing Editor of Surviving Mesothelioma. "The inspiring story of the world's longest living mesothelioma survivor, Paul Kraus, is a perfect example."
Seventy-year-old Kraus, who is still living 18 years after his 1997 diagnosis, is the author of "Surviving Mesothelioma and Other Cancers: A Patient's Guide", available for free exclusively on the Surviving Mesothelioma website. Click here for more on the ADAO's Twitter campaign and to find out how to claim a copy of Surviving Mesothelioma.
Source:
"#ENDMeso Tuesday Twitter Chats - Join the Global Conversation for Mesothelioma Awareness and Action", August 26, 2015, ADAO website, http://www.asbestosdiseaseawareness.org/archives/34541.
For nearly ten years, Surviving Mesothelioma has brought readers the most important and ground-breaking news on the causes, diagnosis and treatment of mesothelioma. All Surviving Mesothelioma news is gathered and reported directly from the peer-reviewed medical literature. Written for patients and their loved ones, Surviving Mesothelioma news helps families make more informed decisions.