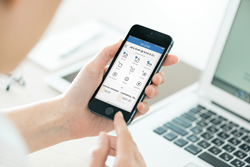 We're absolutely delighted to have our customers hold us in such high esteem!
Toronto, Ontario (PRWEB) September 15, 2015
Nexonia Inc., leading provider of web and mobile business financial management solutions, today announced it has received a five-star rating for the Nexonia Expenses 10.0 mobile application, based on customers' average review rankings from over 100 reviews. A leading application for managing user expense reports, Nexonia Expenses provides customers with a visually-appealing user-interface, enhanced automation and the ability to configure and personalize the app itself.
When the Apple App Store opened its doors on July 10th, 2008, Nexonia Expenses was one of only 552 apps immediately available for download. Now, the five-star Nexonia Expenses app is among 1.5 million apps on offer on the iTunes App Store, and continues to provide users with an efficient portal for expense report creation, submission and approvals.
"We're absolutely delighted to have our customers hold us in such high esteem," said Neil Wainwright, CEO of Nexonia Inc. "When we built the app originally, not only was it about being the first corporate expense app on the App Store, our goal was to better serve our customers wherever they were. We're always listening to customer feedback and making improvements. We have a great engineering team and they're always moving our app forward for our end users!"
Along with the five-star ratings by Nexonia Expenses app users, customers wrote:
"No more lost receipts! The developers have really thought of everything. This even allows you to use it offline." - myetcetera
"Simple interface, easy to use and does the job great!" - Amandeep V.
"It's so easy to use, quick & simple...5 star rating all around!" - Ronco 1
"We use Nexonia at our company (100+ employees) and we love both the expense and time tracking. The new app has a great new interface. Great job guys!" - Truedepth
Nexonia Expenses 10.0 is available as a free download in Apple's iTunes. Anyone not currently subscribed to Nexonia Expenses can book their own personalized live demo with a Nexonia Product Specialist.
About Nexonia:
Nexonia Inc. is a provider of leading web and mobile expense, time and other business financial management solutions, including: Nexonia Expenses, Nexonia Timesheets, Nexonia Time Off, Nexonia Time Allocation, Nexonia Purchase Orders and Nexonia Accounts Payable. Nexonia's simple-to-use and highly customizable applications are fully integrated with ERPs, credit cards and other systems supporting a variety of businesses. Nexonia solutions are designed to streamline the reporting and approval process, improve human resource management and enhance operational efficiency.
To receive more information, visit http://www.nexonia.com or call 800-291-4829.
###