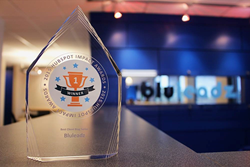 Bluleadz has set an example for how businesses everywhere should be transforming their marketing with inbound.
Tampa, FL. (PRWEB) September 15, 2015
HubSpot, the marketing and sales automation software taking over the inbound marketing industry, awarded Bluleadz with the "Best Client Blog Series" honor. This growing online marketing agency located in Tampa, FL was up against hundreds of other client success stories from other HubSpot agencies worldwide.
This recognition was announced at INBOUND 2015, the largest inbound marketing conference in the world. Bluleadz attended the four day event located at the Boston Convention Center with 14,000 other inbound marketing professionals.
This big win really showcases the capabilities of having an optimized, helpful blog on your company's website. With this blog series, Bluleadz was able to attract over 1,300 visitors and counting to their client's website as well as new, high-qualified leads.
The company brings the inbound message to all of their clients and specialize in services that drive results. Bluleadz is an online marketing agency that's growing--fast. They are currently a HubSpot Platinum Partner and on the cusp of reaching Diamond Partner, the highest tier available and one that only seven other agencies in the world currently belong in.
"Bluleadz has set an example for how businesses everywhere should be transforming their marketing with inbound. Their strategic approach to attracting, engaging, and delighting customers has not only built valuable relationships with their audience, but has driven growth for their agency and the inbound movement. Our team here at HubSpot is proud to call Bluleadz a Partner and recognize them with this Award," said the Director of Marketing at HubSpot.
Bluleadz Inbound Marketing
5405 Cypress Center Drive
Suite 310
Tampa, FL 33609
http://www.bluleadz.com
Bluleadz was founded in 2009 and is headquartered in Tampa, FL. They have serviced over hundreds of clients with top-tier inbound services and continue to help clients grow their businesses. Bluleadz's team of experienced inbound marketing consultants, designers and writers integrate an ironclad marketing strategy that is cost-effective and customized to fit your needs. For more information, please visit http://www.bluleadz.com.