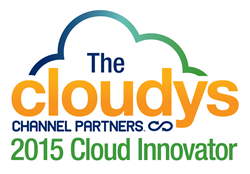 CRI Engineers continue to amaze our customers and partners every day with every project
Boston, MA (PRWEB) September 15, 2015
CRI honored with 2015 Channel Partners Cloudys Innovators Award
Channel Partners magazine, a resource for indirect sales channels offering IT and telecom solutions, is pleased to announce that Communication Resources, Inc. (CRI) has been selected as a winner of the 2015 Cloudys Cloud Channel Innovation Awards.
Twenty-five winners were honored at a reception at Cloud Partners, a Channel Partners event, in Boston. These winners will be featured in Channel Partners' September digital issue.
"Winners of this year's Cloudys awards run the gamut from IP telephony to shifting a customer's entire IT infrastructure into the cloud," said Lorna Garey, Editor-in-Chief of Channel Partners. "We have cloud brokers, desktop and backup as a service providers, and more. This program recognizes the array of business-focused cloud offerings that partners are delivering, and we were pleased to invite our innovators to share success stories with first-time Cloud Partners attendees."
Reflecting on the receipt of the Cloudys Award, CRI's Director of Marketing, Heidi Fulton says, "CRI Engineers continue to amaze our customers and partners every day with every project. Winning a Cloudy will reinvigorate our entire team to continue to push and deliver the industry's very best solutions." Mike Cammarata, CRI's Vice President of Solutions-Sales, furthers the sentiment with "CRI has excelled at rapid development from Idea to Solution for over 25 years, and we will continue to do so for many more to come."
The Cloudys Awards were open to VARs, MSPs, agents, integrators and consultants. To determine the Cloudy winners, providers completed an application that asked them to demonstrate how they are used innovative cloud solutions to help customers grow their businesses.
Channel Partners editors evaluated and scored all applications to determine the 25 candidates that best exemplify the spirit of innovation.
About Informa
Informa is one of the world's leading knowledge providers. We create and deliver highly specialized information through publishing, events, training, market intelligence and expertise, providing valuable knowledge to individuals, businesses and organizations worldwide including the emerging markets of India, China and South Africa.
About Channel Partners
For more than two decades, Channel Partners has been the leader in providing news and analysis to indirect sales channels serving the business technology industry. It is the unrivaled resource for resellers, aggregators, agents, brokers, VARs, systems integrators, interconnects and dealers that provide network-based communications and computing services, associated CPE and applications as well as managed and professional services. Channel Partners is the official media of the Channel Partners Conference & Expo and Cloud Partners.
About CRI
CRI is the Professional Services and Real Time Communications Company that provides Tomorrow's Technology Today!
Our high performance business strategy is to use our expertise in consulting, technology and delivery to help clients achieve business continuity at higher levels so they can create sustainable value for their customers and stakeholders. We use our industry and business-process knowledge, our service offering expertise and our insight into, and understanding of, emerging technologies, new business and technology trends to formulate and implement solutions with and for our clients.
CRI is a system integrator, Gold DevConnect Partner for Avaya, certified VMware Solution Provider, and partners with Dell, Microsoft, IBM, and Citrix.