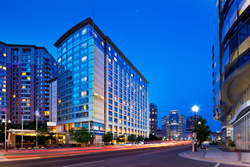 Our clients enjoy our meeting space to guest room ratio," said Michael Broadhurst, General Manager. "Because of our size and flexibility, more often than not, meeting planners are able to be the only event in the hotel, getting everyone's full attention.
Arlington, VA (PRWEB) September 15, 2015
As fall gets into full swing, meeting planners are scrambling to place last minute 2015 groups and meetings at venues and starting to plan their 2016 meeting needs. One venue poised to be the ideal meeting place for those looking for upscale meeting locations is the recently renovated Westin Arlington Gateway, just outside of Washington, DC. The hotel is managed by Crescent Hotels & Resorts, an operator of over 100 hotels throughout North America, including 15 in the Washington, DC area.
"Included in our multi-million dollar renovation was a full refresh of our meeting and event space," said Michael Broadhurst, General Manager. "The response to the newly unveiled upgrade has been incredibly positive." Even prior to the renovation, the hotel had benefits that meeting planners seek. Key preferences of meeting planners are to have all meeting space located on one floor, flexibility of meeting space to accommodate smaller and larger events with concurrent breakout rooms, and abundant, natural lighting via the floor-to-ceiling windows in all pre-function areas.
The renovation included a top-to-bottom upgrade of meeting space, incorporating new carpeting, window treatments and ceiling fixtures. This was done in tandem with a refresh of all 338 guest rooms and suites. Additional space was used to create a presidential suite with sitting and meeting area on the hotel's top floor. "This was an update our clients have been asking for, and we listened," said Broadhurst. "As a matter of fact, we had clients actively giving feedback on all phases of the hotel renovation, from initial planning down to small details such as the new pre-function wall accents."
"One benefit many of our clients enjoy is our meeting space to guest room ratio," said Broadhurst. "Because of our size and flexibility of meeting space, more often than not, meeting planners take all our event space for their functions, and a majority of our guest rooms." A ratio such as this allows clients to be the only major meeting in the hotel, giving them specialized attention of the entire staff. This is a benefit more and more meeting planners have been looking for when considering venues. They find being the only group in house is a clear advantage to competing with other meetings in adjacent space".
The hotel meeting space also includes a boardroom. Being located on the corner of the building, the boardroom offers natural light through windows on half its walls. This boardroom, which comfortably seats twelve, is located equidistant from the hotel's two ballrooms. This gives the boardroom the ideal location to double as an office for meeting planners, giving them quick access to all event space.
"It's not just our physical space and great service that brings clients back to us time and time again," said Broadhurst. "Planners enjoy taking advantage of SPG® Pro (Starwood Preferred Guest) for meeting programs and can earn meeting points for booked groups. Additionally, meeting attendees like staying with us because the loyalty guest program is so robust." Meeting planners can gain points for each meeting held at the hotel. The hotel also offers a variety of one day and multiple day meeting packages priced per person. This makes budgeting meetings easier on those planners that are juggling many meetings throughout the year.
Along with the renovation of meeting space, the hotel has added more options to their culinary offerings for meetings and banquets. Planners may pick tried-and-true selections from the catering menus or have the option to work with the hotel's creative culinary department to develop customized menus for specific events. "Because we handle so many special events such as weddings and mitzvahs, we are very well versed with making every event a truly special occasion. We feel this also holds true for our business meetings," said Broadhurst.
While many meeting planners are starting to think about 2016, many are also working on holiday parties for their own company team members. "Word has spread about our renovation and we are getting many requests for holiday events," said Broadhurst. "We do understand that many companies are watching their budget on what could be considered ancillary events and we have come up with some creative ways to help our clients save money. This includes offering holiday lunches rather than dinners or offering mid-week dates for events. These ideas have been very well received as many planners understand that while associates like to unwind with each other, they also like to keep weekends around the holidays to spend with their families."
ABOUT THE WESTIN ARLINGTON GATEWAY
The Westin Arlington Gateway is located in the vibrant Ballston neighborhood of Arlington, just two blocks from the Ballston Metro Station, providing direct access to Washington, D.C. Surrounded by countless restaurant and shopping options, offer guests relaxation after a long day of work or play. This upscale hotel offers 338 rooms and over 10,000 square feet of meeting and event space. The hotel is the home of Pinzimini Restaurant & Lounge, an award winning restaurant enjoyed by guests and locals alike, serving breakfast lunch and dinner. The Westin Workout gym, New Balance Gear Lending, and indoor pool allow guests to maintain their fitness routine while travelling. The on premise Starbucks allows guests to maintain their caffeine ritual as well. For more information, visit the hotel website, call (703)717-6200, like on https://www.facebook.com/thewestinarlingtongateway follow on twitter.com/westinarlington.
ABOUT CRESCENT HOTELS & RESORTS
Crescent Hotels & Resorts is a nationally recognized, top-5 operator of hotels and resorts. Crescent currently operates over 100 hotels and resorts in 36 states in the US and 4 provinces in Canada. Crescent is one of the few elite management companies approved to operate upper-upscale and luxury hotels under the brand families of Marriott, Hilton, Starwood, Hyatt and IHG. Crescent also operates a collection of legendary independent hotels and resorts. Crescent's clients are made up of hotel REITs, private equity firms and major developers. For more information, please visit http://www.chrco.com.
rw Stayinwashingtondc.com #stayinwashdc