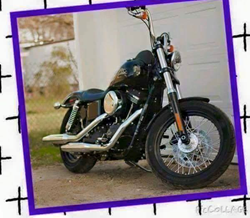 It is very humbling to see the kindness spreading throughout the state as more and more people hear about the Ramsey Keller Memorial. What a wonderful way to honor the memory of our little angel Ramsey, while helping families through this difficult time
Billings, Montana (PRWEB) September 14, 2015
The Northwest Drifters Biker Club is set to raffle a brand new Harley Davidson Street Bob September 19th at the Red Door Lounge in Billings. The bike is valued at over $15,000 and the club's goal is to raise $20,000 for the Ramsey Keller Memorial via the raffle and a few additional fundraising events, including a car wash and a poker run. The September 19th event starts at noon and includes a bike show, a live band, silent auction, vendors and giveaways. Tickets for the bike raffle may be purchased during the event. The drawing is scheduled for 6 p.m. and the live band is scheduled from 6:00 p.m. to 10:00 p.m.
"This year we decided to go above and beyond because we are the "new" club in town. We wanted to do something huge for our community. We contacted the Harley Davidson dealership Copper Canyon in Butte Montana, where the majority of the Northwest Drifters had purchased our bikes from and asked them to help us get a new Harley Davidson to raffle off. They were more than happy to help once we discussed what our plans were to do with the bike. Most of us have kids in the Northwest Drifters, and none of us could imagine the pain these families have felt, so this is why we chose this foundation," says Northwest Drifters President, Nathan Ellestad.
"It is very humbling to see the kindness spreading throughout the state as more and more people hear about the Ramsey Keller Memorial. What a wonderful way to honor the memory of our little angel Ramsey, while helping families through this difficult time," says Kori Keller, Ramsey Keller Memorial Founder.
Kori and her husband Jeff lost their daughter Ramsey in 2011 after complications with fluid retention in her body. Ramsey Keller lived for only two days, but her life continues to touch many. Kori and Jeff started the Ramsey Keller Memorial soon after Ramsey passed away, and are now gearing up for the 4th annual Pink Tie Affair October 10th, 2015 in Billings at the Northern Hotel. The Pink Tie Affair is a semi-formal dinner, dance and silent auction where guests are encouraged to wear pink. This year, a western/Montana theme is also being incorporated. Capacity for the event is 350, and each year the event has sold out. The fundraising goal for the semi-formal event is $70,000. That's $15,000 more than last year's total funds raised. The event starts at 6:00 p.m. and attendees can purchase tickets on the memorial's website: http://www.kisses2heaven.com. Tickets are $62.50 each or $500 for a table of 8.
Many companies and organizations support the event via corporate table sponsorships. Keller says a handful of businesses and organizations have gone above and beyond with additional donations and in-kind sponsorships. She says the foundation could not be where it is today without several of the top organizations that have helped the memorial throughout the years, including Allegra Printing, Avitus Group, Paul Ruhter Photography, Billings Advertising & Marketing and Community 7 Television.
"We are so lucky to have so many businesses, organizations and individuals recognizing the need to help hurting Montana families," says Keller. "From table sponsorships to donated press releases, collateral, professional photography and videography, we could not do this without each business, organization and individual who truly cares about our memorial and helping hurting families."
Keller says 2015 began with a higher than usual number of infant deaths. In January alone, the memorial paid for funeral expenses for 11 families. The total cost for the month was $27,000. So far this year, the foundation has paid out more than $54,000 to Montana families to cover the cost of infant funerals. For more information about the Ramsey Keller Memorial, visit the memorial's website.
"One in 10 families will experience an infant loss. We are raising funds to help families in Montana pay for funeral costs, because even if it's not a financial hardship for you, we believe no one should have to write a check for their child's funeral," says Keller.