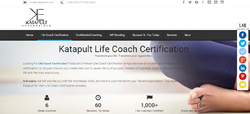 "My most recent endeavor to get my life coaching certification with Katapult under Dr. Zoe has been one of my best decisions post playing career." Chasity Melvin, WNBA All Star
New York, NY (PRWEB) September 14, 2015
Katapult Enterprises announced the relaunch of it's well-known International Life Coach Certification Program Saturday afternoon.
The company has certified nearly 2,000 life coaches worldwide including many high-profile individuals such as comedian and MTV personality Donnell Rawlings, mega church pastor Bishop Randy White, Former WNBA All Star Chasity Melvin, "The Human Ken Doll" Justin Jedlica and many more. They all speak highly of the training. Chasity Melvin says, "My most recent endeavor to get my life coaching certification with Katapult under Dr. Zoe has been one of my best decisions post playing career."
Dr. Zoe Shuster is Katapult Enterprises' President and Founder. She formulated and developed Katapult's Life Coach Certification Program herself and in fact, it was the dissertation for her doctorate degree. Bishop Randy White says of her, "We all have a measure of some type of faith but trust must be earned. Dr. Zoe is the kind of doctor you will realize quickly that she has earned your trust."
Speaking of trust, the same confidentiality Dr. Zoe provides her coaching clients is applied to the company's certification program. This is especially valuable since Katapult takes a much different approach with their coaches in training. Believing in the concept of "coachable coaches", the first half of the six week program, the client is taken through the coaching process themselves, not only to teach the successful way of establishing a client/coach relationship but to hone in on the client's passions which will be used to develop their key niche areas later in the training, creating a completely personalized experience.
Although many celebrities have gone through Katapult Enterprises' Life Coach Certification Program, it is very affordable compared to other certification options and there is no yearly fee to remain certified. Everyone from doctors to real estate agents to college students have completed the training, as it is valuable regardless of the field of business someone is in. The training is known to create "clarity of purpose" and in turn builds people skills, making the new coach more personable to their clientele in any genre of work. Even individuals who have already established coaching practices come to Katapult for a fresh perspective since their program is so unique.
Those interested in becoming an International Certified Life Coach with Katapult Enterprses can contact them through their website http://katapultent.com/life-coach-certification or give them a call via their toll-free number 1.844.LIVE.VIP (548.3847).