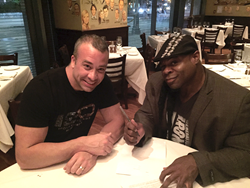 "I truly believe in the American worker, and was determined to produce a product in the U.S.A with the highest quality standards and still be able to come in at a lower price than Chinese 'goods.'"
(PRWEB) September 15, 2015
Isolator Fitness, Inc. is excited to announce their new partnership with 2-time Arnold Classic Champion and star of the critically acclaimed 2013 documentary Generation Iron-- Kai Greene.
Within the bodybuilding arena, Kai has been dubbed one of the most inspirational athletes of his time. With a unique, yet well developed vocabulary, Kai has made a seemingly unconscious effort to create a revolutionary approach to bodybuilding.
In recent years, Kai has become the most popular active professional bodybuilder in the world with over 5 million combined fans on his social media platforms. In the past year, Kai has become the voice of ESPN's NFL Sunday night countdown and launched his own supplement / apparel company: Dynamik Muscle.
Isolator Fitness, Inc. is the only meal management system Made in America and is determined to manufacture only the highest quality products. Isolator Fitness started 6 years ago when David Vollmer, Jr., now CEO of the company, broke his right hand and created the Isolator Pro Force lifting strap. The company quickly evolved and began making new products--most predominantly, the Isobag Meal Cooler. Isolator Fitness has grown exponentially over the past six years--epitomizing the American Dream.
American Made companies are few and far between; with America losing the fight to China in the manufacturing sector, Isolator Fitness is leading the charge to bring jobs back to America by producing their products in Reading, Pennsylvania.
"I truly believe in the American worker, and was determined to produce a product in the U.S.A with the highest quality standards and still be able to come in at a lower price than Chinese 'goods,'" says Vollmer.
David has recognized Kai's passion for helping others for some time now, and reached out to Kai with aspirations to form an alliance that would help all people to feel empowered to reach their health and fitness goals. This partnership was formed with the drive to create only the highest quality products. Both Kai and David share a common set of core values-- customer satisfaction being of the utmost importance.
Make sure to keep an eye out on http://www.isolatorfitness.com for the much anticipated Kai Greene Collection.