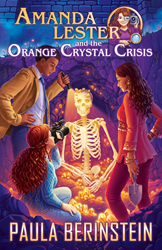 (PRWEB) September 15, 2015
No one knows for sure what master sleuth Sherlock Holmes's great-great-grandson would be like, but author Paula Berinstein has taken a stab at him. She thinks he'd be a real dork. That's why, in Amanda Lester and the Orange Crystal Crisis, she torments him so much.
"I do sort of pick on him," says Berinstein. "I have to, though, don't I? Otherwise he might be boring, and we couldn't have that."
The book is the second title in Berinstein's Amanda Lester, Detective line. Set in England's Lake District, the series revolves around a twelve-year-old girl, Amanda Lester (she turns thirteen in the second book), who is forced to attend a super-secret school for the descendants of famous detectives, despite her desire to pursue filmmaking. Adding to her angst is the fact that she is ashamed of her famous ancestor, bumbling Scotland Yard Inspector G. Lestrade.
Synopsis of Amanda Lester and the Orange Crystal Crisis
Amanda Lester's first term at the secret English detective school has turned out to be a surprising success. But trouble lies ahead. There's a new student at Legatum and Amanda is supposed to work with him. She's the envy of the school. Scapulus Holmes is a descendant of the great Sherlock and he's crazy about her. Unfortunately she thinks he's a dork and ducks him every chance she gets.
She can't avoid him forever though. When the kids discover a dead body encrusted with mysterious living crystals, Amanda realizes she must find out what's going on, even if it means putting up with Holmes. The only problem is that Blixus Moriarty has just escaped from prison, and he wants those crystals.
Can the detectives save the crystals from certain death before the bad guys learn their secrets? Only if Amanda and Holmes can find a way to work together, and it isn't looking good.
About the series
The Amanda Lester, Detective series offers fans an updated heroine: an independent, smart, and sassy young protagonist who finds herself embracing her destiny as a detective despite herself. In addition to Holmes, the supporting characters include a blind girl, a geek, and a priggish boy who is a thorn in Amanda's side, not to mention a descendant of Holmes's nemesis, Professor Moriarty. Their interactions reflect many struggles and realities young readers will relate to.
Book details
Amanda Lester and the Orange Crystal Crisis is available in paperback and as a Kindle download.
Berinstein's third novel in the Amanda Lester, Detective series, Amanda Lester and the Purple Rainbow Puzzle, will be available in November, 2015.
About Paula Berinstein
Berinstein is the former producer and host of the popular podcast The Writing Show. She lives in Southern California. Unlike her protagonist, she is crazy about Sherlock Holmes.
Facebook page: https://www.facebook.com/AmandaLesterDetective
Twitter: @pberinstein