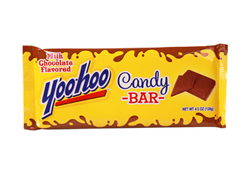 (PRWEB) September 16, 2015
Reading, PA – R.M. Palmer Company announces the launch of their new seasonal Halloween candy offerings for 2015, continuing their tradition of delivering "More Boo for Your Buck" to value-conscious families at Halloween through fun yet affordable novelty candy.
Recent additions to the Palmer line that will be making their Halloween debut this year include Yoo-hoo™ Candy Bars and individually wrapped Yoo-hoo™ Mini Candy Bars. At a generous 4.5 ounces, the Yoo-hoo™ Candy Bar is sure to be a hit with trick-or-treaters who are fans of the iconic chocolate-flavored drink. Yoo-hoo™ Mini Candy Bars are also perfect for trick or treat night; individually wrapped and packaged in 4-ounce peg bags, 14-ounce bags, and also available in bulk at select retail locations.
In addition, Palmer is introducing four new Halloween bags this season. They include foil wrapped Double Crisp® Skulls in a 5 ounce bag, Mummy Munchies, which contains a 178 piece (3.75 lb.) mix of five Palmer individually wrapped candies: Fudge Filled Boos, Double Crisp® Skulls, Chocolaty Plumpkin Pals, Double Crisp® Googly-Eyes, and Peanut Butter Cups, the Zombie Treats bag with 313 pieces (5.75 pounds) of Palmer chocolaty treats, and the Giant Pumpkin bag which delivers the best value with 433 Halloween themed candy pieces. The three larger Halloween bags are resealable. The entire lineup of products can be found on Palmer's Halloween 2015 website.
The updated Halloween website also features recipes and crafts that families can make together to celebrate the season. Recipes such as Caramel Apple Dip, Boo Cake and Creepy Peepers Pumpkin Pudding Trifle add a festive, kid-friendly Halloween flair to any occasion. Crafts include a SPOOKtacular Candy Dish and Trick or Treat Packs that take treat-giving to a whole new level.
ABOUT RM PALMER COMPANY
R.M. Palmer Company has been crafting fun, seasonal chocolate novelties since 1948. Today, the R.M. Palmer Company is the 79th largest confectioner in the world, and the 21st largest confectioner in North America (source: candyindustry.com). From their headquarters in West Reading, PA, Palmer's 850 dedicated employees design, produce, package and ship more than 500 unique items to nearly 100,000 retail locations in North America - making Palmer one of America's largest and most innovative confectioners. For more information about R.M. Palmer Company, visit http://www.rmpalmer.com.