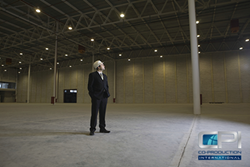 In analyzing the cost of labor, real estate, construction and currency exchange, we find that Mexico is less expensive than China and Costa Rica, noted Enrique Esparza, Chief Executive Officer of CPI.
San Diego, California (PRWEB) September 15, 2015
Mexico Soft Landing company Co-Production International (CPI), is releasing a white paper, "Checklist: The Top 7 Criteria for Choosing a Medical Device Manufacturing Location", at the American Medical Device Summit 2015 that will be held in Chicago on September 21-22, 2015.
As Manufacturing Expansion Experts, CPI provides a range of site selection, construction management, staffing and administrative services to manufacturers in Mexico. With more than 35 years of experience, CPI developed this "Checklist" white paper to help medical device manufacturers assess the cost/benefit value of locations.
The medical device industry has a history of facilities in Mexico, Costa Rica and China. The white paper findings are comparisons of these three countries. The findings indicate that Mexico, and in particular the Tijuana-Baja California region, provides the best combination of labor, proximity and cost savings for a medical device manufacturer.
Mexico is the second largest medical device manufacturer in Latin America and the fifth largest worldwide, with a projected compound annual growth rate of 13.4 percent. In dollar terms, the medical device manufacturing industry in Mexico will expand from an estimated $3.9 billion value in 2013 to $6.9 billion by 2018, according to a study by BMI, a financial research company.
The CPI Checklist assesses the overall cost-benefits and the advantage of access to multiple markets from near-shoring in Mexico: "In analyzing the cost of labor, real estate, construction and currency exchange, we find that Mexico is less expensive than China and Costa Rica," noted Enrique Esparza, Chief Executive Officer of CPI.
The Checklist white paper compares the cultural and cost advantages of Mexico's workforce with its Chinese, U.S., and Latin American counterparts. It notes that labor costs for manufacturing in Mexico are 14.6 percent lower than in China, and that Mexico graduates more engineers per year than the U.S.
Mexico's skilled workforce is largely bi-lingual and bi-cultural. When wages, overhead, and administrative fees are computed, the average hourly wage in the Tijuana medical device manufacturing area is one-third that of comparable workers in the U.S. In Mexico, workers on average put in a 48-hour week at an hourly wage of just under $8 USD.
Land and office leasing are also available at rates lower than the U.S. and compare favorably with Costa Rica: Tijuana has approximately 5 million square feet available for commercial and industrial development, with average lease rates of about 40¢ per square foot in Tijuana, compared to $1.25 in the U.S.
The Checklist white paper findings look at the issue of proximity. Tijuana is 46 times closer to Los Angeles than China and manufacturers can ship in and out of Tijuana via sea, air, rail and highway trucking. As the area has developed into a global hub for medical device manufacturing, manufacturers are likely to be near current and potential suppliers as well.
Mexico's stance on intellectual property law enforcement, a prominent issue for medical device manufacturers, is modeled on the international standards established by the World Intellectual Property Organization (WIPO). Its IP laws protect and enforce IP users much as such laws do in the United States.
The American Medical Device Summit is a perfect setting for CPI to share its expertise on location services with medical device manufacturing executives. Shelter services company CPI take a consultative approach, meeting with the manufacturing company's principals and operations team. Based on the medical device manufacturer's requirements, CPI creates a comprehensive analysis of labor costs, operating overhead and start-up costs; and performs a site exploration. CPI also manages the construction process, from land purchase or leasing, to permits, to contracting for the build-out or build-to-suit. Once the new facility is ready, CPI provides the admin team to manage daily operations.
By utilizing a shelter services company like CPI, a medical device manufacturer has a fully-operational facility while maintaining control of the manufacturing process, QA and ERP systems.
"Our goal is to make it possible for medical device manufacturers to do what they do best: create high-precision instrumentation that supports better healthcare for all of us," Esparza said.
About Co-Production International
Strategically headquartered in San Diego, CA, CPI is the premiere Administrative Services Provider for companies seeking to establish their manufacturing operation in Mexico. CPI manages the entire array of services to launch a new facility, as well as the day-to-day administration once the facility is in operation, all within the guidelines of Mexican regulations. CPI clients can thus do what they do best: focus 100% on efficient, quality manufacturing.