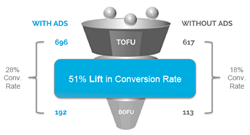 Mirroring email marketing with personalized display ads is an effective way to increase open rates and click-throughs.
New York, New York (PRWEB) September 16, 2015
While more than 60 percent of marketers are aware that email marketing produces ROI for their organization, the need to increase email open rates and click-throughs remains a top priority through 2016. Utilizing email as a linchpin for modern-day marketing will be a key topic of discussion at the upcoming BrightEdge Marketing Conference this Sept. 21-23 in San Francisco.
"Mirroring email marketing with personalized display ads is an effective way to increase open rates and click-throughs, resulting in higher funnel conversion rates,' said session panelist and ListenLoop CEO, Rodrigo Fuentes.
Fuentes will share key insights into measuring the impact of B2B display advertising using marketing automation exports and spreadsheets. He will be joined by digital marketing experts representing Oracle/Eloqua and Ignition One on the panel, "Email & Marketing Automation," where they will discuss tips to achieving a well-executed email, the significance of behavioral and display programs and providing tips for highly cost-effective ways of targeting prospects and customers.
Further topics include automating and integrating email across digital channels, behavioral marketing best practices, simplifying digital complexity and how email fits into the marketing sales funnel. For more information on this session and the event's full program, please visit http://www.brightedge.com/resources/events/share/15.
About Share15
Hosted by BrightEdge, Share15 is a unique industry forum that brings together the brightest minds to openly discuss the transformation within the world of digital marketing. It is an open dialog with top digital marketing experts from leading global brands who are successfully tackling the most complex challenges facing search professionals, content marketers and digital marketers today. Share15 is the one Conference designed and led by industry experts for industry experts
About ListenLoop
ListenLoop's SaaS product combines ad retargeting with the principles of marketing automation, such as segmentation, nurturing, and personalization. ListenLoop tracks visitors on a client website and assigns scores to visitors based on their website behaviors. If a visitor's score crosses a threshold, they are retargeted with a series of personalized display ads.